'Airbnb' of Swedish Banking Seeks New Funding in Growth Drive
By
Peer-to-peer lender Lendify seeks 40-fold loan-book growth

Push comes as biggest banks are already losing market share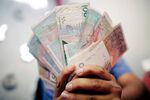 Lendify AB's name may echo that of music streaming behemoth Spotify but the peer-to-peer lender's real inspiration is vacation-rental giant Airbnb Inc.
With lofty role models such as those, the unprofitable Stockholm-based company is planning a third financing round and has sold more bonds as it targets growing its loan book 40-fold over the next five years.

Lendify is seeking to raise more in its next round than the combined 90 million kronor ($11 million) it attracted in its seed funding and initial round, according to Chief Executive Officer Nicholas Sunden-Cullberg, a former Morgan Stanley banker who helped found the lender in 2014. The cash will fund growth, with a particular focus on data and IT, he said.
The company is taking on banks such as Swedbank AB and SEB AB in the growing market for consumer loans at a time when they're already losing market share. While consumer loan providers such as Nordax AB use traditional deposit-based models, Lendify's model is to connect borrowers directly with investors, allowing it to offer cheaper loans.  
"We're the banking world's Airbnb while the banks are Hilton," Sunden-Cullberg, 32, said in an interview at his office in Stockholm's upscale Ostermalm district. "Hilton owns and operates its properties, while Airbnb provides the intermediary service and owns the tool."

Lendify is almost halfway to its short-term goal of having a loan stock of 1 billion kronor, the level it says it needs to be profitable and which it expects to reach in the spring of 2018. Within the next five years, it plans to expand into Norway and Finland and grow its loan book 40-fold to about 20 billion kronor. That would be equal to about 5 percent of the current total 400 billion-krona market for consumption loans in those three markets.
Lendify lost 14 million kronor in the 12-month period that ended in April, according to its annual report. It faces razor sharp competition in a booming Nordic consumer loan market, which has been fueled by record low interest rates in the wake of the financial crisis. Now rates are anticipated to rise next year, which coupled with concerns about the housing market and the impact consumer finances could cause growth to cool.
To fund a further growth in loans, Lendify is relying on attracting private investors. The company said it's lender investors so far have had a return of 6.93 percent after credit losses and fees. Their credit losses have been about 1 percent.
The average investment by private individuals is 35,000 kronor, with the return provided through a monthly interest and amortization payment after Lendify takes a service fee. The average loan size is 120,000 kronor, with a maturity of eight years. The model allows it to offer rates that are typically 2 percentage points lower than those offered by many banks, the CEO said.
It also issues bonds to allow institutions to provide funding too, and has so far raised 300 million kronor. Its bond pays a rate of 5 percentage point more than the Stockholm-based interbank offered rate. It advertises consumer loans with rates of between 2.95 percent and 17 percent, depending on the borrower and maturity.
Lendify started off "with a clean sheet, picked up the best skills available, put them in a new company and built an organization with as little noise as possible," he said. "It's not a 'sexy' competitive advantage, but it's there and it's very efficient."
Lendify is more technology driven and automated and also capital light since the loans are off balance sheet, he said. 
"The capital-light model is more efficient over time, but it needs quite large volumes in order to pay off," he said.
While the major banks still control some 65 percent of the Swedish consumer loan stock (with the rest controlled by niche players), Lendify has already gained a market share of 2 percent on new lending. And with some 50 billion kronor of existing consumer loans changing banks each year, there's more to grab. Lendify is growing its loan book at an annualized rate of 1 billion kronor, or 80 million kronor per month.

Sweden's largest banks are already losing market share. Nordea, SEB, Handelsbanken and Swedbank's combined share of the total 5.6 trillion-krona Swedish lending market (households and non-financial companies) declined to 71 percent last year from 77 percent a decade ago.
Lendify is now looking at adding other loan types, such as mortgages, car loans, credit to smaller companies or asset-backed loans in coming years. 
Lendify will "explore the prerequisites to use our model in other product areas," Sunden-Cullberg said. Mortgages "are closest to hand," he said.
Before it's here, it's on the Bloomberg Terminal.
LEARN MORE