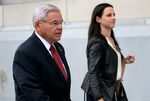 When are gifts from a friend a bribe? That's the question at the center of the trial for Senator Robert Menendez, a New Jersey Democrat. He's charged with corrupting his office to promote the business and personal interests of a longtime friend and political donor, Salomon Melgen. Prosecutors could have a tricky time proving bribery in light of a U.S. Supreme Court ruling last year.
1. What's Menendez accused of doing?
Over seven years, the New Jersey Democrat accepted a stream of gifts from Melgen including flights, a stay at a luxury hotel in Paris, and hundreds of thousands of dollars in campaign donations -- and in return, prosecutors say, Menendez helped three of the eye doctor's foreign girlfriends obtain visas; tried to help Melgen in an $8.9 million Medicare overbilling dispute; pressured the State Department to influence the Dominican Republic to honor Melgen's contract to provide exclusive cargo-screening services in Dominican ports; and tried to stop the U.S. Customs and Border Protection from giving equipment to the Dominican Republic to monitor shipping containers in its ports.
2. What's Menendez's defense?
Both Menendez and Melgen argue the gifts cited by the government weren't improper because of their warm friendship spanning two decades. Menendez's efforts to help Melgen didn't qualify as "official acts," nor did they have any intent to engage in corrupt actions, the two contend. In addition, they say that the reason Menendez pressed Medicare officials was to clarify a confusing and contradictory policy on medicine dosing.
3. Why are 'official acts' an issue?
Last June, the U.S. Supreme Court set aside the conviction of former Virginia Governor Bob McDonnell. That ruling narrowed the definition of "official acts" to only formal and concrete government actions, not political courtesies like arranging meetings. Several other public-corruption convictions have since been reversed, including William Jefferson, a former Louisiana congressman; Sheldon Silver, a former New York State assembly speaker; and Dean Skelos, a former majority leader of the New York State Senate.
4. What did Melgen give the senator?
Prosecutors cite seven trips that Menendez took on private jets at Melgen's expense. Five were to Melgen's Dominican villa in Casa de Campo; one was to a Dominican wedding in Punta Cana; and one was to West Palm Beach, Florida. He also paid for the senator's three-night stay at the Park Hyatt Paris-Vendome; an $875 car service that Menendez took from Hoboken, New Jersey, to New York City; and greens fees and a $357 meal at a steak house in West Palm Beach. The Florida doctor also contributed $20,000 to a legal defense fund for the senator and gave $751,500 to entities supporting the senator's election campaign in 2012. This included $600,000 given to Majority PAC, a political-action committee that sought to elect Democrats to the Senate. Another $143,500 went to New Jersey state and county Democratic entities backing Menendez.
5. What did Menendez do for Melgen?
Menendez used his influence to push visa applications for three foreign girlfriends of Melgen, prosecutors say. The senator also intervened with the Centers for Medicare and Medicaid Services, which ruled that Melgen owed $8.9 million for overbilling the U.S. for an eye medicine, Lucentis. Melgen disagreed with the CMS policy that said each vial of medicine could be used for only one dose. Menendez had a meeting with then-Senate Majority Leader Harry Reid and then-Secretary of the U.S. Department of Health and Human Services Kathleen Sebelius on the subject. In addition, Menendez met with an assistant secretary of state to express dissatisfaction with the department's lack of initiative on the litigation between Melgen and the Dominican Republic over the doctor's cargo screening contract. Menendez also tried to stop Customs officials from donating shipping-container monitoring and surveillance equipment to the Dominican Republic, which the U.S. said would hurt Melgen's interest in providing exclusive cargo screening.
6. Have there been fireworks at the trial?
Yes, but often from an unlikely source — Judge William H. Walls. The judge set the stage when he halted testimony by the government's first witness about graphic details of a luxury Paris hotel stay by Menendez for which Melgen paid the tab. Walls warned prosecutors he was not going to permit a trial that was "tabloid in nature," likely curtailing some planned inquiries about luxury travel and romantic encounters. The judge has repeatedly launched barbed remarks at both sides during the proceedings, at one point telling a defense attorney to "Shut up for a moment if you don't mind."
7. What's at stake?
For Menendez, the verdict could make the difference between serving in the Senate and going to prison. For Melgen, it may determine how much time he spends in jail since he's already been convicted of health-care fraud in a separate case and awaits sentencing. For the Justice Department, a loss would deliver another stinging defeat after the reversal of other convictions of elected officials. It may also help define the legal hurdles the government must clear to prosecute public corruption cases.
The Reference Shelf
Bloomberg profiled U.S. District Judge William Walls, whose rants and zingers during the Menendez trial have kept lawyers on edge.
Photos shown at the trial included Melgen's private jet and the Casa de Campo home.
Menendez's official Senate website.
Before it's here, it's on the Bloomberg Terminal.
LEARN MORE