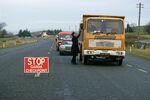 The boundary between the Republic of Ireland and Northern Ireland was long the scene of tense checkpoints and violent protest. Nearly two decades after the end of a conflict that claimed 3,500 lives, the undulating border is once again caught up in a bitter division. Once British and European Union leaders carry out the split -- Brexit -- that British voters ordered up last year, the border between Ireland's north and south will regain significance as the only land crossing between two distinct jurisdictions, the U.K. and EU. With the two sides facing off over the fine print of their separation, Ireland's border is one of the key issues to iron out, with implications for trade and citizenship, not to mention racehorses and Guinness.
1. Why is the border a Brexit issue?
Because its future will be directly shaped by whether, and how, the U.K. and EU reach agreement on some of the most highly disputed questions raised by Brexit, specifically trade and the rights of each other's citizens. With about 15 percent of its exports going to the U.K., Ireland is the EU nation most exposed to Brexit's scrambling of trade ties.
2. Why is there a border in the first place?
The island was partitioned in 1921 as part of a peace agreement between the U.K. government and Irish rebels seeking independence. As part of the deal, Northern Ireland, where the population is majority Protestant, remained part of the U.K. with England, Scotland and Wales. The mostly Catholic southern part of the island became the Irish Free State and gained full independence in 1948.

3. What does the border look like today?
Running north-south in some places, east-west in others, it meanders through countryside for some 310 miles (500 kilometers), dividing rivers, fields and even some houses. For now the border is effectively open, meaning people and goods are free to cross back and forth. A change in road signs and accepted currency is pretty much the only indication that a person has moved into a different jurisdiction.
4. What's the effect of this open border?
Businesses are now able to work across the entire island. One notable example: Diageo Plc, the maker of Guinness and other beverages, has brewing operations on both sides of the border and sends its trucks across about 18,000 times a year. Ingredients from all over Ireland arrive in Dublin, where the water, barley, hops and yeast are mixed and brewed. The beer is then pumped into tanker trucks and carried 90 miles north to Belfast in Northern Ireland, where it's bottled and canned before being sent back south for distribution. Similarly, the free movement of horses has helped make Ireland a world leader in the bloodstock industry, which includes racing and breeding, adding about 1 billion euros ($1.18 billion) to the economy. As for humans, an estimated 30,000 people pass through 300 different crossings every day.
5. So will Brexit mean a return of border checks?
That's one scenario -- a return of customs and security controls, along with the delays and extra costs that would entail. But since cross-border trade is worth more than 3 billion euros a year by Irish government estimates, there's a desire to avoid disruptions. Both sides broadly agree that people and goods should be able to move seamlessly back and forth.
6. Where do negotiations stand?
The two sides are seeking an agreement on broad principles on the border dilemma so they can move on to wider Brexit talks. That would allow the issue to be parked until later in the negotiations when the shape of a future trade deal is clearer. The Irish border is one of three big issues -- along with the financial terms of the divorce and citizens' rights -- that requires progress before trade negotiations can start. U.K. Prime Minister Theresa May wants to preserve today's common travel area, which permits passport-free movement between north and south, as a way to maintain peace on the divided island. She also says she won't accept "physical infrastructure,'' like customs checkpoints. French farmers are already objecting to an open border out of concern that cheaper non-EU imports will infiltrate the bloc via the U.K.
7. What does all this mean for Ireland?
At the very least, it brings back bad memories. The border has been a symbol of British rule almost since it was created, with customs and later military checkpoints positioned at crossings over a course of decades. The Irish Republican Army, which wants a united Ireland, waged a bombing campaign along the border in the 1950s and 1960s. Violence between republican and unionist paramilitary groups claimed about 3,500 lives from the 1970s onward before the arrival of the European single market and a peace accord in the 1990s, when border controls largely melted away.
8. Could a hard border lead to the return of violence?
Customs and security checks would likely hurt the economy on both sides of the border, and perhaps offer a daily reminder of British rule of Northern Ireland. While the province has been at peace for almost two decades, Martin McGuinness, Northern Ireland's former deputy leader who died in March, warned in 2016 that the reintroduction of a border following Brexit could aid those who oppose the region's peace process. Other politicians argue that peace is now so deeply rooted that it would take more than a few border posts to disrupt the island.
The Reference Shelf
Before it's here, it's on the Bloomberg Terminal.
LEARN MORE