Two Tiny Sentences in Spain's Constitution to Guide Rajoy's Hand
By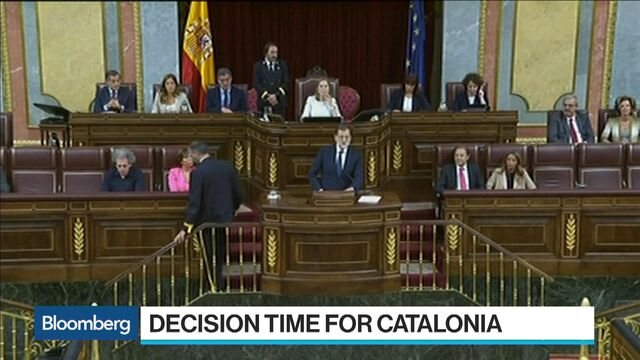 Deep in Spain's 1978 constitution are two sentences that give the central government the means to suspend a regional administration, powers that Prime Minister Mariano Rajoy may now use in his effort to bring the rebellious Catalan region to heel.
Article 155, as the section is known, has never been used before and allows Madrid to force a regional administration to obey the law, which in practice might mean suspending it. Once described as an "atomic bomb" by former Foreign Secretary José Manuel García-Margallo, it could nonetheless be Rajoy's next move as he seeks to use the full force of the law to impose order.
"It seems inevitable that we're headed for Article 155," said Ignacio Gomá Lanzón, a lawyer and chairman of Hay Derecho, a legal advocacy foundation in Madrid. "The range of measures they could take under 155 is quite wide: They could kick out the current government and name new leaders, control Catalonia's police, and eventually even call for new elections."
Here's a look at what's involved:
For the government to force one of its 17 "self-governing" regions to obey laws and the Constitution, it must see the disobedience as "seriously prejudicial to the general interest of Spain." 

Rajoy used that very language on Oct. 11 in his formal demand that Catalan President Carles Puigdemont adhere to the constitution.
Puigdemont now has three days to persuade the Catalan parliament to reverse actions Spain considers illegal -- specifically the legislators' Oct. 10 declaration of independence, which seconds later he suspended from taking effect -- in a twist rejected by Madrid.

If the Catalan government doesn't cave in by Thursday, Rajoy could ask the Senate to hold an emergency session to invoke Article 155 powers

There will be no immediate or even next-day suspension of the Catalan administration or police force, according to legal experts. The Senate first must approve measures, after debate and other legislative formalities
That means a delay of at least two weeks before any crackdown ensues, even under the speediest of procedures, constitutional scholar Jorge de Esteban Alonso wrote in a law blog in September.
(Click here for an official English translation of Spain's Constitution, including Article 155)
Before it's here, it's on the Bloomberg Terminal.
LEARN MORE