Trump Travel Ban 3.0 Hearing Ends in Maryland Without a Ruling
By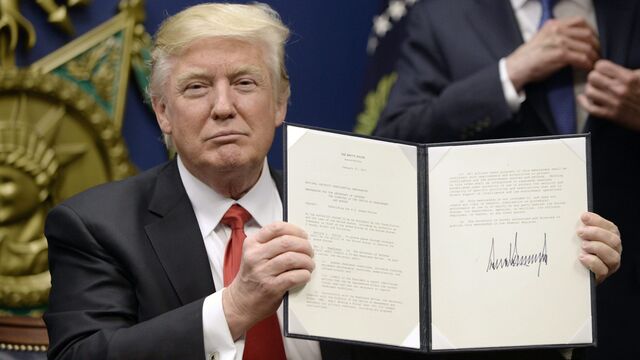 Opponents of President Donald Trump's latest try at a travel ban spent 90 minutes in court on Monday urging a Maryland judge to block it. The judge didn't rule.
U.S. District Judge Theodore Chuang in Greenbelt heard from immigrant rights groups, urging him to put the ban on hold before it takes effect at 12:01 a.m. on Oct. 18. (A judge in Honolulu is weighing a similar request.) Arguments focused on technical legal issues rather than broad human rights concerns.
Opponents say Trump's order is another attempt at the Muslim ban he promised as a candidate. An attorney for the administration countered that the latest plan follows a months-long review of other countries' immigrant-vetting processes and is not faith-based. Under Trump's Sept. 24 order, travel is restricted from six nations -- Chad, Iran, Libya, Somalia, Venezuela and Yemen -- and blocked entirely from Syria and North Korea.
Chuang asked lawyers for the challengers to define the limits of Trump's power over immigration. He questioned Justice Department attorney Hashim Mooppanon on whether Trump's order is consistent with the findings of the Department of Homeland Security's review.
Before it's here, it's on the Bloomberg Terminal.
LEARN MORE