Trump's New Talk on U.S. Drug Prices Sends Biotech Index Down
By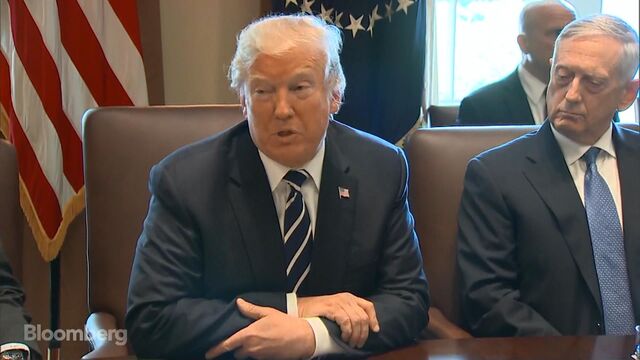 President Donald Trump isn't done talking about U.S. drug prices, and investors aren't done worrying about what he might do.
At a cabinet meeting in Washington Monday, Trump said U.S. drug prices are "out of control" and that "the world is taking advantage of the United States." Trump said he wants to bring U.S. drug prices -- which are generally higher than in other countries -- to parity.
"The same exact drug by the same exact company, made in the same exact box and sold someplace else, sometimes it's a fraction of what we pay in this country," Trump said. "Meaning, as usual, the world is taking advantage of the United States. They're setting prices in other countries, and we're not."
Trump didn't specify how he might force prices down.

U.S. price reductions would be bad news for drugmakers. The country is the world's biggest market for pharmaceuticals -- and one of the most profitable. That's partly because there are few checks on what drugmakers can charge other than what they can negotiate with buyers.
Following Trump's remarks, the Nasdaq Biotechnology Index -- a barometer of investor sentiment about the drug and biotech industry -- pared earlier gains. The index was up 0.5 percent at 12:05 p.m. in New York, after rising as much as 1.6 percent earlier Monday.
Before it's here, it's on the Bloomberg Terminal.
LEARN MORE