Trump Embraces McConnell in Search of a Tax Win
By
Joint appearance follows Bannon's threat of primary fights

President says he and GOP leader 'closer than ever before'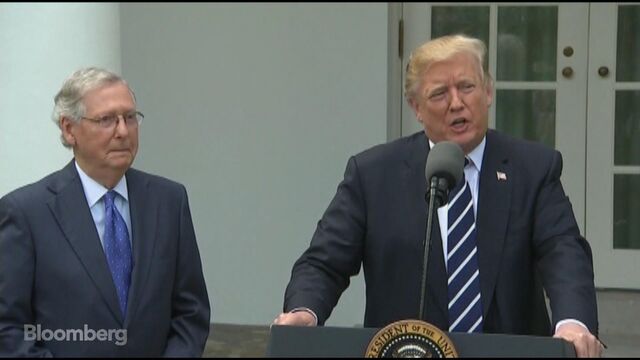 Barely two hours after blaming congressional Republicans for failing him, President Donald Trump gave a Rose Garden embrace to the epitome of the party's establishment, Senate Majority Leader Mitch McConnell.
Trump emceed an impromptu news conference on Monday with McConnell at his side that suggested a president trying to build support for a tax overhaul and the rest of his legislative agenda by charming the residents of the Washington "swamp" he so often derides. 
"We are probably now, I think, at least as far as I am concerned, we are closer than ever before and the relationship is very good," Trump told reporters. "We are fighting for the same thing."
McConnell echoed the president's remarks.
Trump had launched Twitter attacks on McConnell as recently as August. And, earlier in the day, before a private lunch with McConnell, he said Republicans in Congress aren't getting the job done. The two leaders' joint appearance followed a threat from Trump ally Stephen Bannon to use party primaries to purge the Senate of Republicans he regards as blocking the president's priorities.
Trump has publicly criticized McConnell for failing to repeal and replace Obamacare, and he's accused the Kentucky Republican of creating a "mess" with legislation to raise the nation's borrowing authority. McConnell, for his part, has questioned Trump's "excessive expectations" for legislative action and offered tacit criticism of the president's handling of the unrest in Charlottesville, Va.
Bannon's Campaign
The relationship seemed to further fray in recent days after Bannon declared he would back primary challengers to almost every Republican senator running for re-election next year.
Bannon plans to back Senate GOP incumbents only if they promise to vote against McConnell as majority leader and vote to end senators' ability to block legislation by filibustering, according to people familiar with his plans. But Trump on Monday said he would discourage the campaign.
"Steve is doing what Steve thinks is the right thing," Trump said. "Some of the people that he may be looking at I'm going to see if we can talk him out of that, because frankly they're great people."
McConnell was more specific, offering a pointed reminder of insurgent candidates who prevailed in party primaries in 2010 only to cost Republicans Senate seats in the election as their rhetoric repelled swing voters.
"The goal here is to win elections in November" and hold the Senate majority, the Kentucky Republican said.
Damaged Candidates
McConnell named four 2010 Republican Senate nominees: Todd Akin of Missouri, who repulsed voters with talk about "legitimate rape"; Richard Mourdock of Indiana, who said pregnancy from rape is "something that God intended to happen"; Christine O'Donnell of Delaware, who said she'd dabbled in witchcraft; and Sharron Angle of Nevada, who said Sharia law -- Islamic religious law -- had taken over several U.S. cities.
"They were not able to appeal to a broader electorate in a general election," McConnell said. "The way you do that is not complicated. You have to nominate people who can actually win, because winners make policy and losers go home."
Despite the president's public overtures on Monday, his ability to work in partnership with McConnell is unclear as they confront complicated legislative goals such as overhauling the tax code and acting on immigration. 
During the press conference, Trump said that he was drafting an economic development bill -- but hadn't yet told McConnell about it. And only hours earlier, Trump castigated congressional Republicans for failing to deliver and said he understood Bannon's frustrations with senators not "getting the job done."
"You had a few people that really disappointed us. They really, really disappointed us," Trump said in a meeting of his Cabinet. "So I can understand fully how Steve Bannon feels."
Before it's here, it's on the Bloomberg Terminal.
LEARN MORE