Trudeau Reduces Canada's Small Business Tax Rate Amid Uproar
By and
Rate to be cut to 9 percent over two years, from 10.5 percent

Measure will cost taxpayers about C$2.9 billion by 2023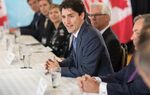 Prime Minister Justin Trudeau said his government will reduce Canada's small-business tax rate, seeking to quell the angry reaction to an earlier plan focused on curbing tax breaks for some small private companies.
The rate will be lowered to 10 percent by Jan. 1 and again to 9 percent at the start of 2019, from today's 10.5 percent, Trudeau and Finance Minister Bill Morneau said Monday at an event near Toronto.
Morneau caused an outcry in July when he proposed tax changes that targeted high-earners for incorporating and using that rate to lower tax obligations. He said Monday the government remains committed to making sure everyone pays their fair share. Trudeau campaigned on reducing the rate to 9 percent from 11 percent in the 2015 election, but "deferred" the cut in his 2016 budget and froze it at 10.5.
"We made a promise to middle class Canadians that we would lower their taxes and make sure everyone pays their fair share," Morneau said. "We will be taking the next step towards greater tax fairness by addressing tax planning strategies that benefit the wealthiest, while fulfilling our commitment to lower the small business tax rate to 9 percent."
The tax cut will be worth about C$2.9 billion ($2.3 billion) through the fiscal year ending in March 2023, according to a government background document. A watchdog report previously found that Trudeau's initial decision not to reduce the rate would add C$2.2 billion to government revenue over five years.
Midterm Setback
Trudeau met with Liberal Party lawmakers in Ottawa earlier Monday before heading to vote-rich suburban Toronto to announce the moves with Morneau. The need to reassure party members comes about halfway through Trudeau's first mandate and represents a political setback. The Liberals' own chair of the House of Commons finance committee Wayne Easter has said Morneau needed to slow down his plan, and an Angus Reid poll last week showed the Liberals and opposition Conservative Party in a statistical tie for popular support.
"What they are trying to do is manage the anger as a result of these tax changes," Nanos Research Group Chairman Nik Nanos said by phone Monday. The latest Nanos poll shows Liberal support down 5 percentage points to 37 percent from a month earlier, with the Conservatives up 2 points to 32 percent.
Trudeau's pressing ahead with tougher tax scrutiny of some businesses runs contrary to the image of a government that touts listening as a key strength, as did another recent proposal to tax certain employee benefits, Nanos said. "This issue is going to continue to dog the Liberals."
Morneau previously proposed changes targeting so-called income sprinkling, where business owners pay relatives who don't actually work for the company to lower their tax bill. They also attempted to restrict passive income, or investments made within privately held corporations that gave the owner a better tax rate than if they'd withdrawn the investment money as income first.
The Conservatives and some farmers and business lobby groups said the proposed changes would sideswipe entrepreneurs who want to save money or pass down a family farm to their children. The finance minister had already said the government will amend tax proposals, for instance, to protect inter-generational transfers of family farms, which observers said would have been upended by the proposals.
"The Prime Minister only made this announcement today because local business operators are speaking out in opposition to his tax grab," Conservative Leader Andrew Scheer said.
The small-business rate applies to income up to C$500,000. Canada's federal net corporate tax rate is 15 percent.
Dennis Darby, president of the Canadian Manufacturers and Exporters, said he welcomed the small-business tax cut and was looking forward to seeing details on other proposals, including on passive income rules.
"Anything that makes them more competitive and gives them more money to invest is a good thing," he said in a phone interview Monday. "It does sound like Mr. Morneau has been appropriately listening to business concerns."
The Canadian Federation of Independent Business, which had been critical of Morneau, agreed. "We certainly are supportive of the reduction in the small business tax rate," said CFIB President Dan Kelly. "Clearly they recognized at the very end of this process that they needed to do something substantive, that they were taking too big a political hit for this."
Before it's here, it's on the Bloomberg Terminal.
LEARN MORE