Spain Rejects Catalan Reply, Paving Way for Suspending Self-Rule
By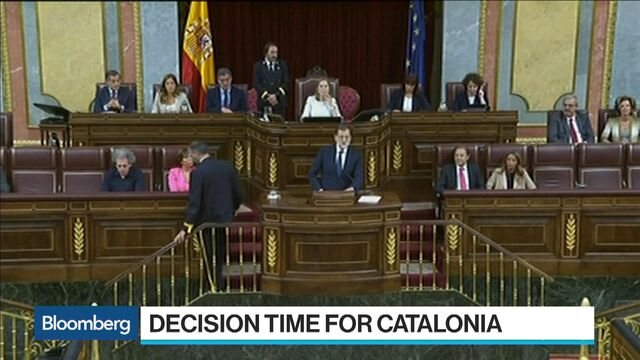 Spain rejected Catalan President Carles Puigdemont's response to demands he clarify his position on independence, clearing the path for the government to suspend the region's self-rule.
Puigdemont has until 10 a.m. Thursday to back down, Deputy Prime Minister Soraya Saenz de Santamaria said in a televised statement Monday. If he persists, the central government will step up its response, she said.
Puigdemont earlier Monday told Prime Minister Mariano Rajoy that he has a mandate from Catalan voters to declare independence, but he's suspended that process to allow an opportunity for dialogue.
Spain has ruled out any negotiations until Puigdemont withdraws his demands for independence. Rajoy said last week that he would consider using Article 155 of the Spanish Constitution to suspend Catalan self-rule under unless Puigdemont made it clear he was not declaring independence.
"The question we have asked is not difficult, it's not hard to answer -- It's not hard in these three days for common sense to return," Saenz de Santamaria said. "It's in his hands."
Puigdemont's letter Monday called for dialogue and a face-to-face meeting as soon as possible while asserting his mandate to declare a republic on the basis of an illegal referendum on Oct. 1 which is disputed by the government. He suggested a two-month deadline for talks to get started.
Before it's here, it's on the Bloomberg Terminal.
LEARN MORE