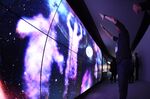 One of the biggest transformations of Silicon Valley is how young companies finance themselves from cradle to (they hope) stock market riches. The transformation is not necessarily a good thing. 
The poster child for startup investment oddities is a Florida company called Magic Leap Inc. You are forgiven if you've never heard of it. Magic Leap has been working for six years on computerized goggles that promise to superimpose virtual objects into people's field of vision.
Based on videos that Magic Leap has produced, the startup imagines a future in which an office worker could see a colleague's text message without looking at a smartphone or a computer screen and simultaneously cue up a three-dimensional virtual model of the sales projections she texted. 
Other companies, including Apple Inc., have trumpeted the potential of such virtual-plus-real technology, but Magic Leap has been particularly astute at generating publicity and curiosity. Celebrities including Beyoncé have tried out demonstration versions of Magic Leap goggles.
But there are those who doubt that Magic Leap's technology will ever be as good as promised, or at least not anytime soon. So far the company's only products are its slick promotional YouTube videos. Yet Magic Leap is on track to collect more than $2.3 billion in investments if it sells the full amount of stock the company recently authorized for up to $1 billion. For comparison, from Facebook Inc.'s birth to its initial public offering in 2012, it needed about the same amount of capital. 

Even during the current flush times in tech, it is unusual for a startup with zero revenue and no finished products to collect so much investment money. But Magic Leap is an extreme case of broader financing changes that started around 2010 as investors recovered from the financial crisis.
In general, the number of young companies collecting capital has grown modestly, but the amount of financing continues to hit fresh records. In other words, startup financiers are concentrating their bets on the most promising, and typically most capital-hungry, tech companies. This could magnify investor returns and help incubate the type of ambitious technologies that require a lot of money to build. Or the concentration of startup capital could blow up in everyone's faces. 
The best snapshot of the change in startup financing is this: In 2012, about $41 billion was invested in more than 7,000 startups in the U.S., or an average of $5.2 million for each investment, according to figures from Pitchbook and the National Venture Capital Association. This year through Sept. 30, $61 billion in combined investments has been made in nearly 6,000 young companies, or an average of about $10.3 million each. (The picture outside the U.S. is similar.) 

Both startups just getting off the ground and relatively mature companies like Uber Technologies Inc. that barely fit the definition of "startup" are getting larger checks than their counterparts did a few years ago. But the biggest change in startup investing has been the share of funding for a small number of superstar startups -- or companies that hope to become superstars. 
Investments in U.S. startups that value the companies at $1 billion or more accounted for less than 1 percent of all startup investments this year through Sept. 30, according to the Pitchbook and NVCA figures. But those deals represented 22 percent of the total amount of money invested in young U.S. companies with venture-capital backing, compared with 4 percent in 2012. Recent big-ticket investments included more than $4.4 billion for office rental startup WeWork Cos., including funds used to purchase shares from existing stockholders.
These mega investments are a relatively novel development for startups, and they have effectively split Silicon Valley into the haves and have-nots. Many private technology companies have been forced to scale back their businesses and start managing for profits instead of straining to grow at all costs because they thought they could always hit up investors for fresh funds. Then there are the handful of superstars including Magic Leap, Uber, WeWork and Airbnb Inc. There seems to be no limit to investors' desire to thrust cash at them. 
It might turn out to be smart to double down on the young companies with the most promise. And the availability of cash for the startup elite has enabled companies that could not have existed in prior Silicon Valley epochs. Without more than $15 billion in funding, Uber could not have become a globe-trotting giant. Magic Leap is cash-hungry because its goals are ambitious; it's trying to create its own hardware, software and electronic components for a technology that may become a foundation of future computing. Or maybe it won't.
Where there is ambition and investors with dollar signs in their eyes, there are also big risks. So far in the post-Facebook startup era, few mega-financed startups have justified the highest hopes of their incubation stage. Snapchat parent company Snap Inc., for example, has had a rocky ride this year as a newly public company. The constant chaos at Uber has made that company look less like a sure hit than it once did.
Silicon Valley's elite have been celebrated like kings with cash bulging in every ermine pocket. Few have yet proved worthy of the adulation.
Before it's here, it's on the Bloomberg Terminal.
LEARN MORE