Sierra Leone's Ruling Party Names Koroma's Successor for 2018 Election
By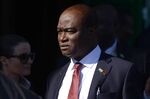 Sierra Leone's ruling All People's Congress appointed Foreign Affairs Minister Samura Kamara as its candidate for next year's presidential polls to succeed President Ernest Bai Koroma.
Kamara was named uncontested on Sunday as Koroma's preferred successor at a party convention that was broadcast live on state-owned radio from Makeni, 187 kilometers (116 miles) northeast of the capital, Freetown. Koroma is due to step down after more than 10 years in power and the two men hail from Bombali, a district in the north of the country.
The main opposition Sierra Leone People's Party elected Julius Maada Bio as its candidate for the March polls, Prince Harding, the organization's chairman, said on state radio. It will be the second time that Maada Bio competes for president after receiving 38 percent of ballots cast against Koroma in 2012.
Sierra Leone is preparing for elections as it recovers from the worst-ever outbreak of Ebola in West Africa in 2014 and 2015. Gross domestic product in the country of about 7.4 million people expanded at 6.1 percent in 2016, from a contraction of 20.5 percent the year before, according to World Bank data.
Before it's here, it's on the Bloomberg Terminal.
LEARN MORE