Catalans Defend Claim to Independence as Spain Prepares to Act
By , , and
Spain may begin process of suspending Catalan autonomy

Puigdemont says he has mandate to declare independence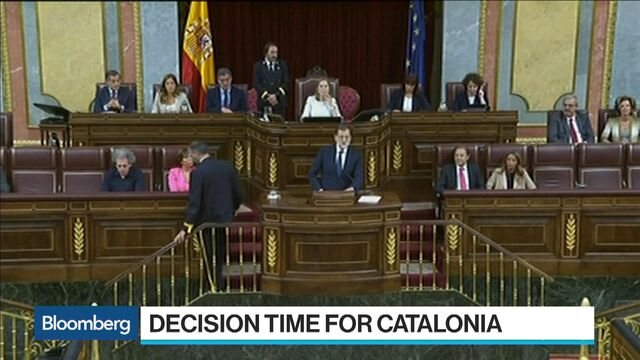 Catalan President Carles Puigdemont defended his region's claim to independence as the Spanish government signaled it will move ahead with the process of suspending self-rule this week.
In a letter to Spanish Prime Minister Mariano Rajoy, Puigdemont said his focus for the next two months will be dialogue and called for a face-to-face meeting as soon as possible, insisting the illegal referendum held on Oct. 1 gives his government a mandate to found a new republic. Rajoy, writing in response, said Puigdemont is sowing discord among Catalans and gave him until Thursday at 10 a.m. to back down. He said that preparations are in place for Madrid to take direct control of the region.
"It's not hard in these three days for common sense to return," Deputy Prime Minister Soraya Saenz de Santamaria said in a televised statement Monday. "It's in his hands."
Catalonia's push for independence marks the biggest challenge to Spain's political order since its restive regions were granted autonomy after the death of Francisco Franco in 1975. Madrid -- backed by the European Commission -- refuses to contemplate secession by its biggest regional economy, accounting for a fifth of national output, and has ruled out any negotiations until Puigdemont withdraws his demands.
Read more: Spain's Nuclear Option on Catalonia Is No Quick-Fix for Rajoy
"More than two million Catalans gave the regional parliament a democratic mandate to declare independence," Puigdemont said in his letter. "Our proposal for dialogue is sincere, despite all that has happened, but logically it is incompatible with the actual climate of growing repression and threat."
Spanish stocks fell, with the benchmark Ibex losing 0.7 percent at 11:45 a.m. in Madrid. CaixaBank SA, the biggest Catalan bank, fell as much as 2.4 percent. The spread between Spain's 10-year government bonds and similarly dated German bunds was little changed at 120 basis points.
European Tensions
The Catalans' repeated appeals for support, and the ugly scenes as Spanish police cracked down on the Oct. 1 vote, have strained the European Union support for Rajoy. Belgian Prime Minister Charles Michel, who faces his own separatist movement in the richer, northern region of Flanders, said in an interview published Saturday in Le Soir that the EU may have to consider stepping in to mediate if talks between Madrid and Barcelona fail.

"Only if dialogue has been definitively shown to fail should we consider international or European mediation," Michel said.
Such a development would be anathema to Rajoy, who is due to travel to Brussels shortly after the latest deadline expires to meet his EU colleagues including Michel at a summit.
'This Is Enough'
Rajoy has so far resisted demands to use Article 155 of the Spanish Constitution to take direct control of the Catalan administration and sideline Puigdemont and his team. But last week he said he's prepared to take that unprecedented step unless Puigdemont backs down.
"The notice that I sent you is the prior step to the procedure set out in Article 155 of the Constitution," Rajoy wrote in in his letter to the Catalan leader on Monday.
If Rajoy does take direct control of Catalonia, he will eventually have to call regional elections to facilitate a return to normality.
A QuickTake explainer on Catalonia
"This is enough for Rajoy to justify applying Article 155," said Antonio Barroso, a political-risk analyst at Teneo Intelligence in London. "When he does we can expect a high degree of mobilization on the streets as the independence movement tries to claim that the central government is moving ahead in a repressive way and resisting dialogue."
Hardliners within the separatist campaign have drawn up plans to picket major economic infrastructure like the main airport and the port if Madrid moves to take control. They have also considered targeting foreign companies operating in the region in a bid to force other EU leaders such as Germany's Angela Merkel to step in and help break the impasse.
Puigdemont's reference to two months of dialogue in Monday's letter was the first time he's placed a time limit on his call for negotiations with Madrid. If that deadline expires with no movement from Rajoy, the Catalan government will declare independence unilaterally, Joaquim Forn, head of the regional interior department, said in an interview with Catalunya Radio.
Saenz de Santamaria on Friday said the uncertainty in Catalonia is starting to affect the region's economy and the government may have to review its 2018 estimate for Spain's economic growth if the crisis isn't resolved soon. At least 531 companies have transferred their legal bases out of Catalonia to other parts of Spain since the referendum, El Mundo reported, citing data from Spain's College of Registrars.
— With assistance by Todd White, Manuel Baigorri, and Angeline Benoit
Before it's here, it's on the Bloomberg Terminal.
LEARN MORE