Business
Paris Is Becoming One Big Monument to Two of Europe's Richest Men
Billionaires Bernard Arnault and Francois Pinault are making their mark on the cityscape.
By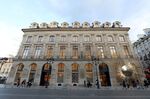 First they competed for handbags and haute couture. Now, two of Europe's richest men are vying for the city of Paris itself.
French tycoons Bernard Arnault, 68, and Francois Pinault, 81, are jockeying for prestige with a flurry of construction projects across Paris that will reshape the city as a capital of luxury shopping and contemporary art. The building spree comes nearly 20 years after they fought for control of brands including Gucci and Yves Saint Laurent.
On the banks of the Seine, Arnault's LVMH Moet Hennessy Louis Vuitton is two years into a renovation of the Samaritaine department store reportedly costing 500 million euros ($591 million) that will see part of the Art Deco landmark converted into a Cheval Blanc luxury hotel. A five-minute walk away, Pinault, whose family controls the rival luxury group Kering, is racing to renovate a historic former commodities exchange to exhibit part of his collection of contemporary art. 
Both projects were designed by Japanese architects who have won the Pritzker Prize, and both are slated to be finished by the end of next year. The men or their companies are pursuing other developments as well, ranging from new stores to corporate or brand headquarters.

Money from the fashion industry started to enter the cultural sphere in Paris in the 1970s with projects like the Espace Pierre Cardin, "but with LVMH and Pinault it's going up a level," said Michael Storper, a professor of urban studies at the London School of Economics and Sciences Po in Paris. "All of it goes together—there's a package of luxury shopping, museums, and hotels. You're looking at a pretty significant upgrade in that area."
The projects add to a rivalry that dates back to the 1990s, when the company now known as Kering won control of Gucci in a battle with LVMH and also snapped up Yves Saint Laurent, which had been coveted by Arnault. Whether the two luxury titans simply happen to be on similar schedules, or if they're vying to steal each other's thunder, is unclear. Neither man would comment on the concurrent projects.
The two men and the Paris-based companies that they control have plenty of resources for their real estate ambitions. Arnault, the chairman and chief executive officer of LVMH, is the world's seventh-richest person, according to the Bloomberg Billionaires Index, while Pinault is the 33rd wealthiest.
This month, Louis Vuitton opened its flagship store on the Place Vendome after a four-year renovation, joining other LVMH-owned brands Dior, Hublot and Chaumet in the iconic jewelry district around the Ritz Paris hotel. LVMH feted the opening of the store—an 18th century townhouse whose new look features a golden sun motif covering an entire facade—with a party attended by Cate Blanchett and Michelle Williams and a performance by Will Smith.
Meanwhile, saws are buzzing on the other side of the square, where the 124-year-old home of Kering-owned jeweler Boucheron is getting a facelift.
LVMH in the past two years has opened new Paris locations for brands including Givenchy, Rimowa suitcases, and Celine. Kering, which has been run by Pinault's son Francois-Henri since 2005, has upped its store count in the city for Gucci, Saint Laurent, Bottega Veneta, and Alexander McQueen, according to data from Exane BNP Paribas.
"They are competitive; they are always going head-to-head," said Delphine Dion, professor specializing in luxury at Essec business school near Paris. "The competition between their brands means competing for the best locations, and the competition is brutal."
On the Left Bank, Kering moved its headquarters last year into a renovated hospital complex from the 17th century. The structure is situated on rue de Sevres—just steps away from LVMH's prized department store Le Bon Marche, which Arnault purchased alongside Christian Dior Couture when he launched his luxury empire in the 1980s. Kering is restoring another landmark in the neighborhood, the Abbaye de Penthemont, to serve as a headquarters for its brand Yves Saint Laurent.
The two men also have worked for years to build landmark contemporary art institutions. More than a decade ago, Pinault abandoned plans for a museum on an island in the Seine amid opposition from local officials, choosing instead to open it in Venice. Shortly after, LVMH under Arnault unveiled plans for the Fondation Louis Vuitton, a Frank Gehry-designed center for contemporary art that opened three years ago to international attention in the Bois du Boulogne on the western edge of Paris.
Pinault finally struck a deal in 2016 for his own museum in central Paris, at the former Bourse de Commerce. As work advances on that project, Arnault has ramped up efforts to enliven the surroundings of the Fondation Louis Vuitton. He's commissioned Gehry to renovate the neighboring Museum of Popular Arts and Traditions, which has been closed since 2005, as well as partnering with the Compagnie des Alpes to add 17 new "steampunk" themed attractions to the amusement park adjoining the two museums. 
If the luxury moguls' real-estate rivalry seems to have gone into overdrive, the companies reached an entente in some areas of the business that would have been difficult to imagine at the turn of the new millennium, when LVMH went to court to block Kering's takeover of Gucci. The Italian mega-brand's handbags are now sold on LVMH's multi-brand e-commerce site 24Sevres.com, launched this year.
Last month, LVMH and Kering teamed up to ban the use of ultra-skinny and under-16 models across all their brands. In an interview, LVMH executive Antoine Arnault, the eldest son of chairman Bernard, acknowledged that the joint action was unusual. "Certain subjects rise above any competition," he added.
For historic preservationists, the expansion of luxury groups in Paris has had a mix of outcomes. Luxury groups work with high-quality architects, said Julien Lacaze, a board member at preservation group Sites and Monuments. A luxury brand's image often is more compatible with preserving historic interiors than others would be, he said. 
But Lacaze warns that investing in dramatic "architectural gestures"—such as the 200-foot rippling glass wall that will soon unify the Samaritaine's facade on the Rue de Rivoli—could backfire. 
"There is a will to be seen, which makes sense for a brand," Lacaze said. "But you risk losing the architectural unity that gives Paris its charm."
Before it's here, it's on the Bloomberg Terminal.
LEARN MORE