Netflix's Outlook After Price Hike Will Test Its Stock Rally
By
Streaming-video provider to report earnings after the close

Profitability, programming budget also in focus for investors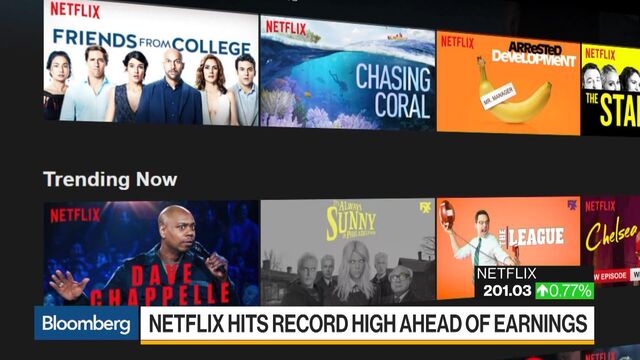 It's all about new subscribers at Netflix Inc. -- whether the company meets or misses forecasts for third-quarter customer gains, and whether the outlook is positive enough to keep investors upbeat.
The dominant paid streaming company reports financial results Monday after markets close, and anticipation has been building for a bang-up quarter. Since late September, analysts have been raising their price targets for the stock, which was already up 61 percent this year through Oct. 13. A rush of upgrades came after Netflix announced a price increase in the U.S. and U.K. on Oct. 5. The shares fell 0.3 percent to $198.94 at 11:28 a.m. Monday in New York after hitting an intraday record $202.02.
Investors are confident that customers love Netflix's constant barrage of new shows so much that they're willing to absorb the price hike, which was 10 percent for the most popular subscription option. The third quarter featured the debut of superhero series "Marvel's The Defenders" and a new season of drug-trafficking saga "Narcos," among other programs.
The company is one of the few in media "with this amount of pricing power," Rosenblatt Securities analyst Alan Gould wrote on Oct. 6. Goldman Sachs has the highest price target, at $235.

Subscriber Outlook
Subscriber momentum continued into the third quarter and should grow year-over-year in most markets, said UBS analyst Doug Mitchelson, who raised his price target on the stock by 18 percent to $225 on Oct. 4, the day before the company unveiled the price increase.
He's forecasting U.S. customers will increase by 850,000, about 100,000 more than Los Gatos, California-based Netflix projected in July, which would bring the company's U.S. total to 52.8 million. A tie-in with T-Mobile US Inc., giving wireless users a free subscription, is adding to the gains.
As Netflix's domestic base grows, big increases are getting harder to come by, and the price hike could slow fourth-quarter gains. JPMorgan analyst Doug Anmuth lowered his estimate for fourth-quarter U.S. subscriber growth by 50,000 to 1.65 million on Oct. 13, suggesting people dropping the service because of the higher price could counter gains tied to the T-Mobile promotion. He projects fourth-quarter international subscription gains will reach 5 million, down from an earlier estimate of 5.2 million.

Profitability
For the third quarter, the company forecasts a $576 million profit from its domestic streaming operation and $30 million from international. Revenue should rise 30 percent to $2.97 billion, Netflix predicted in July, with earnings soaring to 32 cents a share from 12 cents a year ago.
To buy programming, you need cash, and Netflix is still burning through it at a fast pace, even though the company promised to begin generating substantial profit after completing its global rollout.
Netflix forecasts negative cash flow of as much as $2.5 billion in 2017, with more losses coming in the years ahead, and has raised even more than that over the past year with a $1 billion U.S. bond sale last October, a $1.4 billion euro-bond sale in April and a deal in July for a $500 million credit line.
Led by co-founder and Chief Executive Officer Reed Hastings, the company often uses its quarterly letter to shareholders to outline its financing plans.
With cash and short-term investments at $2.16 billion last quarter, the highest since the end of 2015, the company looks set for the time being.
Programming Budget
Subscriber growth at Netflix hinges on having more for shows to watch, and with the company now operating worldwide, it means having more in more countries. In 2018, Netflix plans to spend $7 billion acquiring TV shows and movies, a 17 percent increase over 2017, with a growing share dedicated to exclusives and original productions.
The company's long-term budget for programming has risen by almost 20 percent over the past year to $15.7 billion at the end of the second quarter, with executives pledging no let-up.

With an ever larger subscriber base, "we can pay more for a piece of content or we can put more on the screen," Chief Financial Officer David Wells said at a Goldman Sachs conference in September.
Some of the biggest swings in Netflix shares follow quarterly earnings reports. They rose 14 percent on July 18 and jumped 19 percent in one day a year ago, both times because subscriber growth topped forecasts.
Disappointments can be just as wicked, and the last big one came in July 2016, when a price hike crimped subscriber growth and the stock plunged 13 percent.
So best to buckle up.
Quotes from this Article
Before it's here, it's on the Bloomberg Terminal.
LEARN MORE