Theresa May Heads to Brussels to Try to Break Brexit Deadlock
By and
Previously unannounced visit as crunch EU summit meeting looms

Labour talking to moderate Tories about amending repeal bill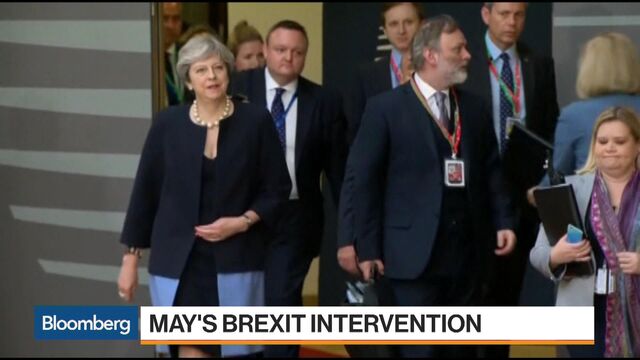 Over dinner in Brussels, Prime Minister Theresa May will plead with Europe's top negotiator to help unlock Brexit negotiations, as politicians back in London are sounding out cross-party alliances to try to stop the U.K. leaving the European Union without a deal.
The U.K. leader's last-minute diplomacy includes a call to German Chancellor Angela Merkel on Sunday and another one to French President Emmanuel Macron Monday afternoon. By sitting down in person with EU Commission President Jean-Claude Juncker and chief Brexit negotiator Michel Barnier, she's trying to avoid coming home empty handed from a leaders' summit on Thursday.
Talks ended in an impasse last week and the major sticking point is how much the U.K. will pay when it leaves. The brinkmanship has reached the point where both sides have raised the prospect of Britain crashing out without a deal, an outcome feared by businesses and investors.
The calls to other leaders come after Germany and France made clear on Friday they want to toughen the tone of a draft declaration on Brexit at the summit, according to an official familiar with the discussions.
The stakes are high for May, under pressure at home to secure some kind of a breakthrough in return for the concessions she offered last month. The hardliners in her Conservative Party insist on firm rhetoric that dangles the prospect of leaving without a deal and would reject ceding more ground.
At the same time, lawmakers in the House of Commons are working across the political divide to block a no-deal scenario from happening, according to John McDonnell, finance spokesman for the main opposition Labour Party. As things stand, Britain will automatically tumble out of the bloc in 2019, with or without a deal.
Unhappy Precedent
"We would expect this to be a constructive dinner," May's spokesman James Slack told reporters in London. "We are heading in the right direction. We want to make progress in a number of areas as quickly as possible."
May will be hoping that the 6:30 p.m. meeting, scheduled to last 90 minutes, will go better than the last time she and Juncker dined together with his chief-of-staff Martin Selmayr. Back in April, unflattering accounts of the meeting poisoned the atmosphere between the two sides and led May to accuse Brussels of meddling with the upcoming election she called.
That election was a disaster for her, stripping the Tories of their parliamentary majority and leaving the premier with even less wiggle room. Her landmark Brexit bill, which enshrines all EU law in domestic legislation, is set to be sabotaged by rebels seeking to make a stand.
Trouble Ahead
A former chancellor of the exchequer Ken Clarke, the only Tory to vote against triggering Brexit, has already made his intentions clear: "Parliament, if we amend this bill properly, can start binding in the ultra-right members of the cabinet and the ultra-left members of the shadow cabinet."
The potential for cross-party collaboration is growing by the day with more than 300 amendments already proposed by lawmakers. Labour's Brexit spokesman, Keir Starmer, said he's met Barnier a number of times and stressed that "there's no way" his party would vote for no deal.
On the other side of the spectrum, May will have the likes of Foreign Secretary Boris Johnson, who has been nipping at her heels and touted as a potential leadership challenger, reminding her how little room she has to shift her stance.
"We made a very good offer, a very fair and we think it's a reasonable point of view that we're outlining," Johnson told reporters in Luxembourg. "Let's put a tiger in the tank; let's get these conversations going and stop letting the grass grow under our feet."
Before it's here, it's on the Bloomberg Terminal.
LEARN MORE