Jokowi Sees Low Inflation Laying Ground for Interest Rate Cuts
By , , and
Bank Indonesia is independent, to decide on rates: Jokowi

Government has managed to cool inflation from a high of 8%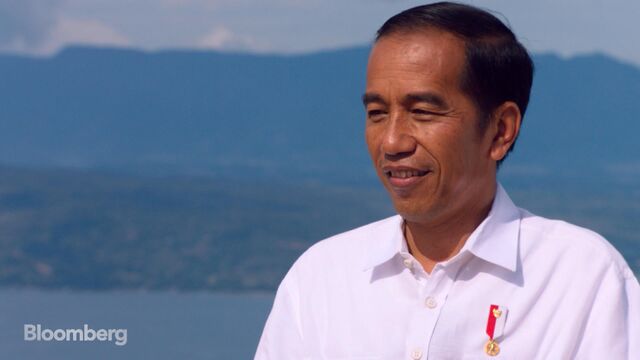 Indonesia's success in taming consumer prices provides room for lower interest rates, President Joko Widodo said, while making it clear that it was the job of the central bank to determine whether to cut.
Inflation will average less than 4 percent this year, down from more than 8 percent in 2014 when he took office, Widodo -- also known as Jokowi -- said in an interview at Huta Ginjang, overlooking the picturesque Lake Toba, where he had been to open a newly upgraded airport nearby.  
"It means that if inflation is low, lending rates can still fall," he said. "But again, it's not my territory. That's the territory of Bank Indonesia."
Eight rate reductions since the beginning of last year, including back-to-back surprise cuts this year, have failed to fire up Southeast Asia's largest economy. The growth rate is still stuck at about 5 percent, well below the 7 percent goal Jokowi set when he came into office three years ago.

The central bank, which will announce its next rate decision on Thursday, is now carefully trying to balance the need for more stimulus with risks that the currency may weaken as the U.S. Federal Reserve tightens monetary policy. The president's comments reflects the dilemma Governor Agus Martowardojo and his board faces as they try to press the pause button.
"As a former businessman, I will be happy if lending rates fall," said Jokowi, a former furniture exporter. "All businessmen are happy if lending rates fall, fall and fall. Because costs will be lower, and their products will compete better with products of other countries."
Martowardojo said last week that future rate moves will depend on what the data tells policy makers about the outlook for the economy. Inflation has been relatively subdued this year, reaching 3.7 percent in September and remaining within the bank's 3 percent to 5 percent target. It's expected to remain tame in the years ahead, with Bank Indonesia set to narrow the target to 2 percent to 4 percent from 2020, according to Deputy Governor Perry Warjiyo.
All 23 economists surveyed by Bloomberg predict the bank will keep its benchmark rate unchanged at 4.25 percent on Thursday.
Growth Outlook
Speaking after an interview with Bloomberg Television's Haslinda Amin, Jokowi said while 5 percent economic growth is "good," the government will continue to pursue the 7 percent goal. Faster growth was the best way to generate more jobs and increase per-capita income of the country's 260 million people, he said.

Read More: Indonesia Set for Trillion-Dollar Economy in Bittersweet Triumph
Jokowi said a slump in the rupiah and record quarterly outflow of foreign funds from stocks were due to reasons beyond his government's control and he was committed to making Indonesia an attractive destination for investors. The record-breaking rally in the benchmark Jakarta Composite Index was a testimony to investors confidence in the country's prospects, he said.
"It's usual for portfolio investments to come and leave. The most important thing is that the composite index is increasing," Jokowi said. "Investors still see Indonesia as an investment destination -- one of the best destinations."
The rupiah dropped to a 10-month low early this month and was at 13,507 against the dollar on Tuesday, while the yield on benchmark 10-year government bonds rose five basis points to 6.6 percent. Foreign investors sold a net $2.1 billion of stocks in the third quarter, while they are net sellers of $914 million of government bonds this month, according to data compiled by Bloomberg.
— With assistance by Karlis Salna
Before it's here, it's on the Bloomberg Terminal.
LEARN MORE