Johnson's Seat Under Further Threat in Review of U.K. Districts
By
Labour-supporting areas would be moved into Uxbridge seat

Better news for education secretary in proposed changes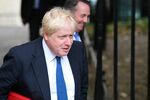 U.K. Foreign Secretary Boris Johnson might find it more difficult to hold on to his House of Commons seat for the Conservatives in the next general election if plans to redraw electoral district boundaries are approved by Parliament.
Revised proposals published Tuesday by the independent Boundary Commission for England would see alterations to Johnson's Uxbridge and South Ruislip district in northwest London that appear likely to benefit the main opposition Labour Party. Constituencies are being reviewed as part of a regular process, but also to cut the number of Commons lawmakers to 600 from 650 and to ensure seats are of more uniform size.
Johnson's seat, renamed Hillingdon and Uxbridge, would be stripped of one ward in the south that voted Conservative in London's most recent local elections in 2014, while it would be expanded by two wards in the east that backed Labour.
The prospect of a traditionally Conservative area falling to Labour is by no means unthinkable after the opposition party gained a series of seats across London and southeast England in the last election in June. While Johnson slightly increased his share of the vote in Uxbridge this year to 50.8 percent, Labour's went up to 40 percent from 26.4 percent. Swing seats including Johnson's are being targeted for regular campaigning by Momentum, the grassroots movement that backs Labour leader Jeremy Corbyn.
Better News
The proposals contain perhaps better news for another cabinet minister whose seat is under threat -- Justine Greening in Putney in southwest London. Her constituency -- renamed Wandsworth and Putney -- would gain two wards that backed the Tories in 2014, while losing one that was Labour-supporting. The education secretary saw her majority of more than 10,000 votes in the 2015 election slashed to just over 1,500 votes in June.
Major Labour figures, though, are also affected by the proposed changes. Corbyn and his foreign-affairs and home-affairs spokeswomen, Emily Thornberry and Diane Abbott, currently hold three neighboring seats in London's Islington and Hackney areas that would effectively be reduced to two under the plans.
It's unclear whether the proposals will have enough support in Parliament to be adopted, after the Conservatives lost their majority in June. The plans are scheduled to be implemented in time for the 2022 election.
Before it's here, it's on the Bloomberg Terminal.
LEARN MORE