How Goldman and Morgan Stanley's Profits Might Still Surprise
Hannah Levitt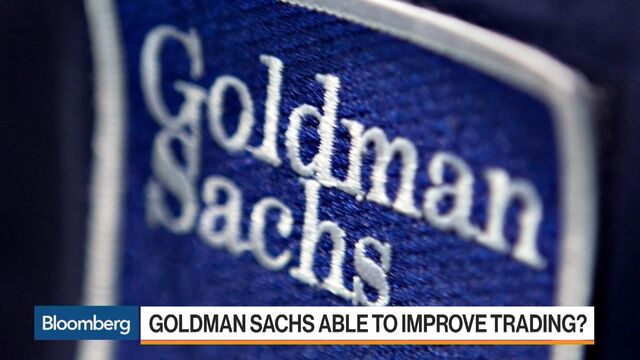 As Goldman Sachs Group Inc. and Morgan Stanley's bigger rivals reported third-quarter results last week, most U.S. bank stocks tumbled. Can the pair buck the trend when they post figures Tuesday?
At Goldman Sachs, investors will focus on whether it's making progress in improving trading -- a source of revenue under pressure industry-wide. The bank vowed to address problems after that business posted its worst first-half performance in more than a decade. JPMorgan Chase & Co., Citigroup Inc., Bank of America Corp. all disclosed third-quarter declines last week.
But another theme that emerged for the quarter -- signs of trouble in consumer lending -- may spell less pain for Goldman and Morgan Stanley, because they don't rely so heavily on that business. And if their earnings are lean, either firm could protect profits by targeting costs -- potentially cutting staff or bonuses.
Here's what to watch as they post results.
Fixed-Income
Subdued markets have made life tough for traders as clients sit out. But as other banks estimated weeks ago how much less their fixed-income desks were earning in the quarter, Goldman was characteristically vague, saying only that it was "pretty challenging." Expectations are now particularly low after Citigroup, Bank of America and JPMorgan said they suffered declines ranging from 16 percent to 27 percent in that business.

Investment Banking
Both JPMorgan and Bank of America beat analysts' estimates for investment banking revenue. But they credited that showing to a strong middle market -- a segment that's less important for Goldman Sachs and Morgan Stanley. Investors will be watching to see if they can make up the difference elsewhere.

Lending
JPMorgan, Citigroup, Bank of America and Wells Fargo & Co. posted higher provisions for consumer-loan losses in the third quarter, which could be a leading indicator of a turn in the credit cycle. Goldman Sachs and Morgan Stanley have traditionally focused their lending efforts on wealth-management clients, with the latter more than doubling such loans over the past three years. But Goldman Sachs has recently made building out an online consumer lending arm, known as Marcus, a key piece of its strategy for growth.

Costs
When revenue is subdued, cost control can prop up profitability -- and that means employees may take a hit. Goldman Sachs reported its lowest first-half compensation ratio in history in the first half. Morgan Stanley has a 74 percent target for cost ratio in a flat revenue environment. Investors will want to see whether Goldman Sachs and Morgan Stanley are holding the line on costs. So will employees, as managers prepare to set year-end bonuses in the months ahead.

MiFID II
The European Union's MiFID II rule unbundling research costs from trading commissions goes into effect in January. Goldman Sachs and Morgan Stanley, two of the biggest equity-trading firms, will be among the most affected U.S. banks as they price their research. Bloomberg reported in September that Goldman's research prices are declining because lenders are focusing on retaining client relationships over gaining revenue for their product. Morgan Stanley was said this month to plan charging about $2,500 an hour for private meetings with stock analysts on top of a basic access rate. The earnings reports give both firms a chance to update shareholders on what will happen.
Quotes from this Article
Before it's here, it's on the Bloomberg Terminal.
LEARN MORE