business
Good News About Brexit: Leaving London and Paying Less Rent
The U.K.'s capital is far more expensive than Paris or Frankfurt
By and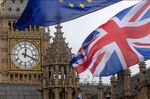 Bankers and others who must relocate in the wake of the Brexit vote may miss London, but not its rents. In destinations including Frankfurt, Paris and Dublin, their housing costs could be slashed as much as 60 percent.
London is currently the least-affordable major city in Western Europe, according to the Bloomberg Global City Housing Affordability Index, with average monthly rent and mortgage payments equaling 135 percent of monthly net income. Prices have been elevated by the concentration of high-paying jobs in finance and wealthy foreign-property hunters.

In Paris, the cost is 84 percent of average net income. In Dublin and Amsterdam, it's about 70 percent and in Frankfurt, Zurich and Brussels, it's between 50 percent and 55 percent.
The Bloomberg index calculates the affordability of renting a three-bedroom residence or buying a 1,000-square-foot home in city centers and suburbs across 105 global and regional financial centers. Rankings are based on self-reported data, including net salary and mortgage interest rates, compiled by Numbeo.com, an online database of city and country statistics.
For many prospective home owners, prices in the U.K. capital have been out of reach. If purchasers allocated half their after-tax income to housing, they'd need minimum take-home pay of $11,764 a month to buy in central London, assuming they put 20 percent down and have a 30-year fixed-rate loan. 

Using this scenario, a person in Paris could afford a similar flat with take-home pay of at least $6,050 a month. The minimum in Frankfurt would be $3,520. Goldman Sachs Group Inc. has said it is expanding its office space in the German city, which is home to the European Central Bank. Major global financial institutions have already announced they are moving more than 10,000 London-based jobs to other parts of Europe. So far, Frankfurt is the top destination.

-- With assistance from Sam Dodge.
METHODOLOGY: The Bloomberg Global City Housing Affordability Index ranks 105 global and regional financial centers. Housing costs are based on the average of four components: the monthly mortgage payment for a 1,000-square-foot residence and monthly rent for a three-bedroom apartment in city centers and suburbs. Calculation of the monthly mortgage payment is based on putting 20 percent down and having a 30-year fixed-rate loan. The implied minimum net-income requirement is based on spending 50 percent of take-home pay on mortgage costs. The data Bloomberg used for the calculations are self-reported and compiled by Numbeo.com as of June 30, 2017. Only cities with a minimum of 15 responses for all related metrics are included.
Before it's here, it's on the Bloomberg Terminal.
LEARN MORE