Five Things You Need to Know to Start Your Day
Get caught up on what's moving markets in Asia.
By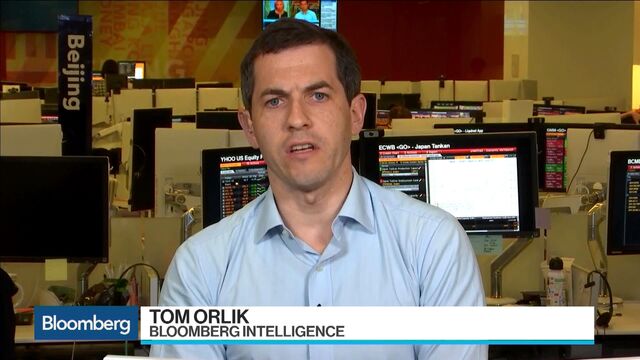 Want to receive this post in your inbox every morning? Sign up here.
Chinese central bank chief's warning triggers a reaction, bond yields in Japan may be set to advance, and John Taylor could be the next Fed chair. Here are some of the things people in markets are talking about.
Markets React to China Central Bank Head
People's Bank of China chief Zhou Xiaochuan has a warning: the country's leverage issue hasn't gone away. The market was quick to react to his words, with yields on China's 10-year sovereign notes spiking to the highest level since April 2015 on a closing basis, while an equity gauge of smaller companies slumped the most in three months. The comments come amid a run of strong data, with better-than-expected producer price growth Monday underscoring the image of an economy still riding the wave of unsustainable leverage to achieve its growth targets. 
Japanese Investors Position for Election
Bond yields in Japan may be set to advance after the general election as the ruling coalition and the opposition parties signal a looser approach to fiscal discipline, according to investors surveyed by Bloomberg. There's no shortage of pressure on the Bank of Japan to stick to its inflation target or negative interest-rate policy, but that may die down after the election even if Prime Minister Shinzo Abe retains power, according to Sompo Japan Nipponkoa Asset Management Co. and Mitsubishi UFJ Kokusai Asset Management Co. Recent polling shows that Abe's ruling party is seen headed for its best national result in 31 years. The current prime minister plans to channel about half of the revenue from a planned sales-tax hike toward education and social spending from funding the budget deficit, but the new Party of Hope would rather scrap the tax hike and doesn't seem to be a fan of the central bank's negative-rate policy.
India's Savers Risk Getting Burned on Stocks
Indian savers have been funneling record amounts of their savings into a historic stock rally, and now some market analysts are concerned that a reckoning will soon come. "There is a lot of frothiness in the market," Prateek Pant, co-founder of Sanctum Wealth Management, which has $770 million in assets, said last week. Earnings per share at companies in the NSE Nifty 50 Index have stagnated since the run up to the country's 2014 elections, but the index has risen 50 percent over the same period. 
Taylor Said to Impress Trump
Stanford University economist John Taylor, a candidate for Federal Reserve chairman, made a favorable impression on President Donald Trump after an hour-long interview at the White House last week, several people familiar with the matter said. Former Fed board governor Kevin Warsh has meanwhile seen his star fade within the White House, three of the people said. Trump gushed about Taylor after his interview, one of the people said, and the president has always been prone to hiring people with whom he has a good relationship.
Markets Keep Moving Higher
Equities in Asia look set to build on gains seen in the U.S. overnight, after the S&P 500 closed at a fresh record high. Treasuries fell as news of Taylor's increased chances for the top Fed job rippled through the bond market. Gains in oil and copper drove the Bloomberg Commodities Index to a six-month high before pulling back. All eyes will be on the Reserve Bank of Australia's minutes today from its meeting earlier this month. While Australian officials left rates unchanged, they warned about the strength of the Aussie and the relatively weak labor market. Separately, Deputy RBA Governor Luci Ellis participates in a panel.
What we've been reading
This is what caught our eye over the last 24 hours.
Before it's here, it's on the Bloomberg Terminal.
LEARN MORE