Ex-HSBC Trader Fights Extradition as Boss's U.S. Trial Nears End
By
Stuart Scott to fight U.S. extradition in London court Monday

Co-accused on trial in New York tells jurors Scott ran deal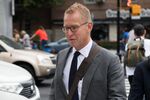 Stuart Scott, HSBC Holdings Plc's one-time head of currency trading in London, starts his fight this week against extradition to the U.S., as the trial of his ex-boss nears a conclusion in a courtroom across the Atlantic.
Scott appears before a U.K. judge Monday to start two days of hearings that may decide whether he's sent to face charges that he schemed to rig foreign-exchange markets. Last week, his former boss Mark Johnson, who is on trial over the same allegations, told a New York jury that Scott was responsible for the deal at the center of the charges.

Johnson and Scott were accused by the U.S. Justice Department in July 2016 with using insider knowledge to front-run a $3.5 billion currency deal by Cairn Energy Plc that made the bank $8 million in profits. While Johnson was nabbed at New York's Kennedy Airport before he could return to the U.K., Scott remained free for almost a year at his home in the London suburbs. He was finally arrested and bailed in June.
"I put Stuart in charge of a deal at this stage," Johnson, who was in HSBC's New York offices when the order was executed primarily in London, told jurors Thursday. "Scott was there, as opposed to being 3,000 miles away."
A lawyer for Scott declined to comment. The jury is expected to begin deliberations on a verdict against Johnson this week.
While the court isn't supposed to consider Johnson's testimony or verdict, it may hover over Scott's case, according to Jasvinder Nakhwal, a lawyer at Peters & Peters in London.
The U.K. court "will not pass judgment on any guilt or innocence of the U.S. criminal charges," Nakhwal said. "Of course, negative testimony about Scott in the U.S. trial could give greater perceived moral force to the U.S. request."
Prosecutors in Johnson's trial have painted a picture of banker greed, playing audio recordings for the jury in which he's heard saying the 2011 deal was a "bonanza" for London traders and would boost their compensation. Johnson denied claims it was improper for him to tell traders to buy the pound ahead of the currency conversion ordered, saying strictures on sharing information applied to stocks but not foreign exchange.
A ruling on Scott's extradition may not be given for several weeks, by which time Johnson will know his own fate. Even if Scott fails in his petition, it could be months until he's on a plane as the first court decision is usually appealed and a back-log of cases can see long delays between hearings.
Before it's here, it's on the Bloomberg Terminal.
LEARN MORE