EU Urges Kenyan Political Talks to Break Election Impasse
By and
Kenya ruling party's law changes not needed for rerun, EU says

Odinga-led opposition may obstruct voting if deal not reached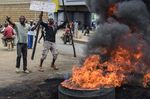 The European Union urged Kenya's ruling Jubilee Party and the main opposition alliance to be prepared to compromise hard-line positions to allow for a credible rerun of presidential elections.
"Dialogue and cooperation are urgently needed for compromises so there can be a peaceful electoral process with integrity and transparency and Kenyans can chose their president," the EU's elections observer mission said on Monday in an emailed statement.
Uncertainty about the Oct. 26 election is unnerving investors and clouding the outlook for an economy that's already slowing. Kenya is a regional hub for companies including Toyota Motor Corp. and could become an oil exporter with Tullow Oil Plc among firms that are likely to start exploiting an estimated 1 billion barrels of crude resources.
The opposition National Super Alliance, led by former Prime Minister Raila Odinga, is demanding changes to the Independent Electoral & Boundaries Commission before a repeat of the presidential vote. The Supreme Court nullified the Aug. 8 ballot after finding the authority committed "illegalities and irregularities." Odinga has withdrawn from the rerun, citing the commission's refusal to reform, and is scaling up street protests to daily from three times weekly to push for change.
'No Election'
A raft of recommendations the EU proposed for the IEBC after the botched election will help improve its technical processes if implemented, the mission said. 
The EU said Nasa's 'No Reform, No Election' campaign could result in supporters obstructing voting and results counting, while electoral law amendments awaiting President Uhuru Kenyatta's signature to become law have widened divisions in the nation.
"Their timing is not consistent with good practice for electoral law reform," the EU said of the proposed law changes.
Opposition protests that erupted after Kenyatta was declared winner of the invalidated vote resulted in the deaths of 33 people in Nairobi alone, mostly at the hands of security forces, Human Rights Watch said in a report on Sunday. The Kenya National Commission on Human Rights has previously placed the toll at 37 people nationwide.
The national death toll could be as high as 67 because some deaths remain undocumented, said HRW, which conducted a joint probe with Amnesty International. Kenya's police force said on its Twitter account that the report was "totally misleading and based on falsehoods." A disputed election in 2007 led to widespread violence that claimed at least 1,100 lives.
Before it's here, it's on the Bloomberg Terminal.
LEARN MORE