Drawn-Out Vote in Kenya Has Increased Risks for Investors, IMF Says
By
Lender's forecast of 5% GDP growth would be slowest since 2012

Growth seen picking up if political environment normalizes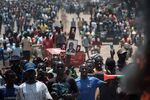 Kenya's election rerun is raising the country's risk profile among investors and weighing down already sluggish economic growth, the International Monetary Fund said.
"The prolonged election period has increased risks for investors and traders," Jan Mikkelsen, the Washington-based lender's new resident representative in Kenya, said in an emailed response to questions. "This in turn has led to a slowdown in economic activity."
The IMF has lowered its 2017 economic growth forecast for Kenya, the largest economy in East Africa, to 5 percent after expansion slowed in the first half of the year due to a drought that led to a contraction in farming output and pushed up food prices. That would be the lowest growth rate since 2012. Rain-fed agriculture in Kenya, which supplies a third of the cut flowers sold in the European Union, contributes about 30 percent of the country's total output.
Kenya's Supreme Court last month overturned President Uhuru Kenyatta's win in an Aug. 8 election, citing "irregularities and illegalities" by the nation's electoral body. Opposition candidate Raila Odinga, who has been demanding changes at the electoral commission, withdrew from participating in the Oct. 26 rerun, saying the management of the vote "would be worse than the previous one."
Economic growth may pick up in 2018 "assuming a return to a more normal, predictable political environment after the forthcoming elections and a modest improvement in agriculture production," Mikkelsen said.
Back Burner
A "stagnation" in banks' lending to businesses and individuals is adding to growth woes, Mikkelsen said. Credit to the private sector grew 1.6 percent in August, compared with 1.4 percent in July, according to the Central Bank of Kenya. A law limiting loan charges to 400 basis points above the central bank's key rate curtailed lending that was already slowing because of tighter industry regulations.
The IMF will hold talks with the Kenyan government on whether to renew a $1.5-billion standby loan facility that's meant to buffer the nation from excessive external shocks after elections are concluded. Kenya isn't expected to draw on the resource before its expiry in March, Mikkelsen said.
The election impasse has forced the government to place economic matters on the back burner to focus on holding the rerun, according to Ahmed Salim, a vice president at Teneo Strategy.
"The ongoing political volatility means that key economic decisions will be substantially delayed," Salim said in an emailed note. "As Kenya's political crisis continues, the economy will likely take a hit and reforms will slide down the priority radar."
Before it's here, it's on the Bloomberg Terminal.
LEARN MORE