Bond Traders Get Yellen's Green Light to Sell U.S., Buy Europe
By and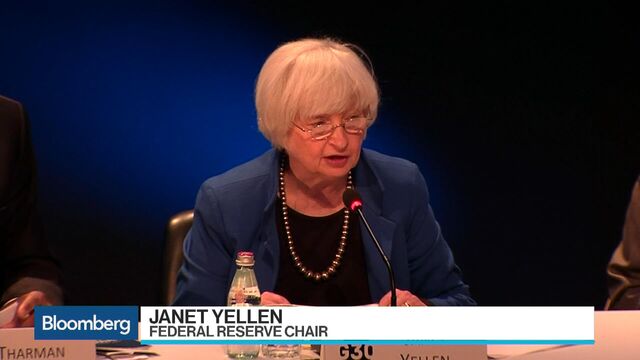 Bond traders around the world drew a clear conclusion from a weekend gathering of influential central bankers: Sell America.
While sovereign bonds rallied across just about every developed market on Monday, U.S. debt declined, driving the yield spread for five-year Treasuries over similar-maturity bunds up 5 basis points to the widest since April. Put another way, the U.S. is underperforming, big time.

The shifting expectations are apparent in the futures market too. Cross-market blocks indicate traders sold Treasury contracts and bought gilt and bund futures instead, representing $200,000 and $395,000 of risk per basis point move, respectively.
Federal Reserve Chair Janet Yellen said on Sunday that she expects to continue raising rates gradually amid solid U.S. growth, even as inflation remains surprisingly low. She spoke at the Group of Thirty's Annual International Banking Seminar in Washington. The market-implied odds of a Fed hike by year-end rose to about 75 percent, from around 70 percent at the end of last week.
"Yellen's speech continued to be more along the lines of: We don't have much evidence of inflation, but we're going to plan on raising rates anyway because we have faith that inflation is returning," said John Briggs, head of U.S. rates strategy at NatWest Markets. "On a relative basis, she was certainly more hawkish" than other central bankers.
Yellen said her "best guess" is inflation will move higher next year. European Central Bank President Mario Draghi, by contrast, said this weekend that while he expects it will increase, "we should also be patient because it's going to take time."
The coming days will test the power of those words, since traders have resisted betting too heavily against Treasuries at these levels.
The U.S.-Germany 10-year yield spread rose Monday through 191 basis points, approaching a key mark that has capped widening since June. The difference has increased about 15 basis points since the start of September. That was when the benchmark Treasury yield, now at 2.3 percent, approached 2 percent.
Quotes from this Article
Before it's here, it's on the Bloomberg Terminal.
LEARN MORE