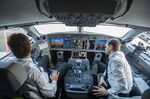 Barely two years after Bombardier Inc. secured a $2.5 billion bailout from Quebec (and a Quebec pension fund), the aircraft and train manufacturer is passing the cap around again.
The cash-strapped company, whose flagship C-series commercial aircraft program was recently hit with massive U.S. tariffs, hopes to monetize part of its aerospace business, Bloomberg News reported. The deliberations could lead to a disposal of Bombardier's Q400 turboprop and CRJ regional-jet units, with Airbus SE said to be among potential suitors.
Until now the message from Bombardier's management was that its refinancing, fund-raising and job-cutting efforts had "de-risked" the balance sheet and secured the needed liquidity to fund expansion. So it's worrying that in the wake of the C-Series trade dispute instigated by its rival Boeing, Bombardier thinks it might need to sell more assets. A glance at Bombardier's finances shows why, though.
Consider free cash flow. Bombardier has been hemorrhaging cash for years, in part because of delays and cost overruns on the C-Series. Analysts don't expect the rot to stop until 2018. 

The ongoing cash drain means the relief from Quebec's capital injections 1  hasn't been as great as you might expect. The balance sheet remains a bit of a dog's breakfast.

True, Bombardier isn't under immediate pressure to repay debt, but refinancing demands increase toward the end of the decade. The company was betting on the C-Series, as well as more sales of large business jets, to help pay down debt. 2  

In the meantime, the high leverage exacts a toll: Bombardier's interest costs exceeded its adjusted operating profit over the past 12 months. While it managed to refinance $1.4 billion of five-year debt in December, it had to offer an 8.75 percent coupon.
Selling some aerospace assets would simplify the sprawling conglomerate and give Bombardier's finances a bit of breathing space. But finding a buyer at a reasonable price might be difficult. Bombardier's regional jet and turboprop plane orders haven't been terribly good lately. The company took a $240 million impairment on the CRJ1000 in 2015.
In addition, selling businesses (or equity stakes) might diminish the pool of earnings left over to fund its massive liabilities. In other words, Bombardier is stuck between Boeing and a hard place.
Before it's here, it's on the Bloomberg Terminal.
LEARN MORE