Balance of Power: After Islamic State, Are Iraqi Guns Being Turned on Each Other?
By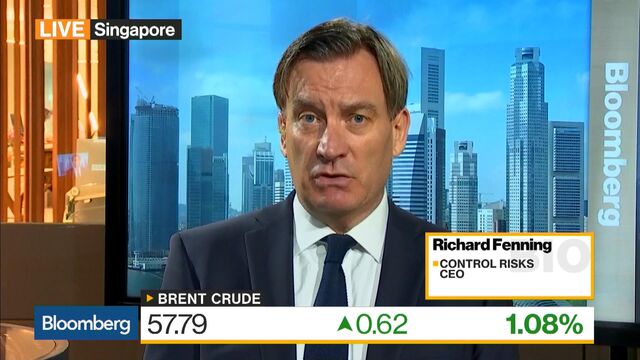 Three weeks after Iraq's Kurds voted overwhelmingly for independence, Baghdad moved to regain control of the oil that helped propel Kurdish dreams of statehood.
Iraqi forces took over oil fields and a military base near the city of Kirkuk that lie outside the Kurds' semi-autonomous region but have been controlled by them since 2014. The fighting sent oil prices higher.
Prime Minister Haider Abadi has vowed to seek a negotiated way forward with the Kurds — but also to prevent a fracturing of the country. While it's unclear how he'll square the two, mounting international concern over Kirkuk could force an opening for emergency talks. Sustained conflict might drag in Turkey and Iran.
Kurdish fighters entered Kirkuk as Iraq's army retreated before Islamic State offensives. Now, the collapse of the extremist group's rule — as in Syria — is changing the calculus. 
The jihadists were defeated in Iraq due to the collective efforts of forces loyal to both Baghdad and the Kurdistan capital, Erbil, with outside help. There's a risk the guns will be turned on each other.

Sign up to receive the Balance of Power newsletter in your inbox, and follow Bloomberg Politics on Twitter and Facebook for more.
Global Headlines
Mogadishu atrocity | The death toll in Saturday's truck-bomb blast in the Somali capital rose to about 300 — the most lethal strike in the Horn of Africa nation since the central government collapsed a quarter century ago. While no one claimed responsibility, suspicion fell on al-Shabaab, the al-Qaeda-backed group that's waged a decade-long war to impose its version of Islamic law.  It came in the wake of the group's loss of territory and stepped-up U.S. airstrikes ordered by President Donald Trump. 
Catalonia showdown | The government is giving Catalonia's President Carles Puigdemont three days to back down on his independence claim before it starts the process of seizing control of the rebel region. Puigdemont is sticking to his guns and hinted he'll give Spanish Prime Minister Mariano Rajoy another two months to start talks.
Austria's populist surge | Sebastian Kurz is set to become the world's youngest leader at the age of 31 after his People's Party placed first in Austria's election. His administration is almost certain to pursue the anti-immigration agenda of his expected coalition partner, the far-right Freedom Party, whose strong showing is a reminder that populism is far from defeated in Europe.
Until the first bomb drops? | U.S. Secretary of State Rex Tillerson told CNN the president has urged him to continue his diplomatic efforts with North Korea "until the first bomb drops." While the remark was meant to explain Trump's Twitter statements about Tillerson "wasting his time trying to negotiate" with Kim Jong Un, the choice of phrasing did little to ease concern that the U.S. sees the standoff as headed to conflict. 
Facebook's new job requirement | Facebook's efforts to prevent foreign powers from using its network to manipulate future elections has driven it to hire people with national security clearances. Facebook plans to use the employees — and their access to classified information on potential threats — to search more proactively for questionable social-media campaigns before votes. Government workers can carry over security clearance to the private sector as long as the job still requires access to such information.
Venezuela vote surprise | Opponents of President Nicolas Maduro were widely expected to hand him a rare loss in regional elections yesterday. It wasn't to be — Maduro claimed victory in 17 of the 23 races, marking another step in his march to consolidate power.
And finally... Larry Flynt has put a bounty of Trump's political scalp. The Hustler magazine publisher — who has a long record of dangling cash for political dirt — took out a full-page ad in yesterday's Washington Post offering a $10 million reward "for information leading to the impeachment and removal from office of Donald J. Trump." Flynt called it his "patriotic duty, and the duty of all Americans, to dump Trump before it's too late."

— With assistance by Kathleen Hunter
Before it's here, it's on the Bloomberg Terminal.
LEARN MORE