Austria's Vote Nudges Europe to the Right as Nationalist Party Gains
By and
Conservative, 31, in line to become world's youngest leader

Germany's Merkel calls Freedom Party a 'major challenge'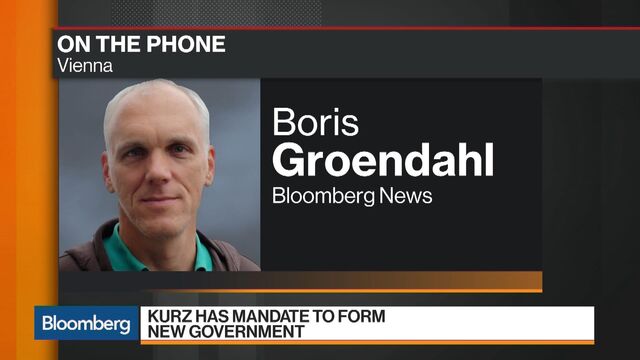 Europe's political balance is tilting to the right after Austrian voters paved the way for a nationalist party to enter government, suggesting the country will be a more difficult ally for partners such as Germany.
German Chancellor Angela Merkel called the Freedom Party's strong showing in neighboring Austria a "major challenge" as it prepares to team up with election winner Sebastian Kurz, 31, whose People's Party is part of the same political family as her Christian Democrats. Kurz, who outflanked the nationalists with a hard-line stance on refugees, now is poised to become the world's youngest head of government.

While the Freedom Party has been part of Austrian governments before, Sunday's election shows Europe's nationalist agenda is still gaining ground, three weeks after Germans elected a far-right party to parliament for the first time since immediately after World War II.
"I'm feeling somewhat vindicated by the fact that way more than 55 percent have voted for the Freedom Party's platform, because big parts of our program were copied by other parties," Freedom head Heinz-Christian Strache, 48, said on a television panel. "We're now the mainstream of society."

Read more: The conservative university dropout who won Austria's election
With the Freedom Party poised to return to government for the first time since 2005, Merkel may find the Austrian result chipping away at a key ally's pro-European stance in the years ahead.
The rise in Freedom's fortunes contrasts with a defeat for Merkel's Christian Democratic Union on Sunday in a German state election in Lower Saxony, potentially weakening her hand in multiparty talks this week on forming a new national government. While congratulating Kurz for his "very modern campaign" and expressing a desire for cooperation, the 63-year-old chancellor kept her distance.
"It's not a political constellation I'd like to see emulated in Germany," she told reporters in Berlin on Monday.
| | What happens next after Austria's election? |
| --- | --- |
| Monday | Mail ballots are counted from 9 a.m. Results may take until late Monday or Tuesday |
| Tuesday | Government offers President Alexander Van der Bellen its resignation and is immediately reappointed as caretaker government |
| Thursday | Final official result to be announced after ballots cast in precincts away from home are counted |
| After Thursday | President gives one party a mandate to form government. While he's not obliged by law, the task usually goes to the biggest party |
| 4 weeks later | Deadline to challenge election result |
Sunday's result also marked a voter revolt against Austria's tradition of government by the two biggest parties, who have run the country together for 44 of the 72 years since World War II, including the last decade.
While Kurz and Strache might shake up that cozy political order, they broadly agree in pledging business-friendly policies, notably to scrap corporate taxes on retained profits. They'll also stay in the German-led camp favoring fiscal austerity in the euro area.
Strache, whose party's last stint in government under Joerg Haider led to EU diplomatic sanctions against Austria, sought to ease the way to power by backing off strident anti-EU rhetoric, including threats to try to exit the bloc.
"There won't be a debate to leave the EU, but the Freedom Party is strong enough to demand significant concessions," said Thomas Hofer, a political consultant in Vienna. That could lead Austria to align more often with eastern EU countries challenging Merkel on issues such as migration, he said.
Merkel and French President Emmanuel Macron also may face increased resistance on proposals to deepen European integration, maintaining economic sanctions on Russia and chastising eastern EU countries seen as restricting democratic freedoms. Austria's next government may also try to toughen EU policy toward Turkey.

The swell of anxiety over immigration to Austria began building 2015, when almost 70,000 mostly-Muslim refugees sought asylum from war-torn countries such as Syria, Afghanistan and Iraq. Schools and hospitals in the nation of 8.7 million struggled to accommodate the newcomers, and disagreements over welfare support for migrants became a campaign theme.
"This is a strong mandate for us to bring about change in this country," Kurz, the likely next chancellor, told cheering supporters in Vienna. "It's about establishing a new political style, a new culture."
— With assistance by Arne Delfs, and Patrick Donahue
Before it's here, it's on the Bloomberg Terminal.
LEARN MORE