Angry Puerto Ricans Flocking to Florida Could Boost Democrats
By , , and
Most island immigrants expected to settle in central region

Democrats could be specially strengthened in U.S. House races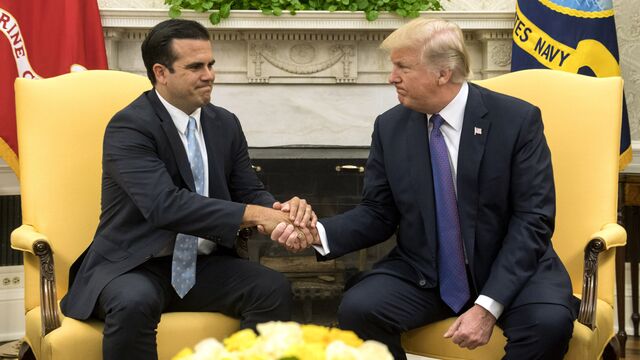 President Donald Trump's Democratic challenger in 2020 could get a boost from an exodus of angry and storm-battered Puerto Ricans flowing into the quintessential battleground state of Florida. A more immediate winner may be Democratic Congresswoman Stephanie Murphy.
The freshman lawmaker faces re-election next year in an Orlando-area district where an influx of tens of thousands of Democratic-leaning Puerto Ricans could tip the scales. That hasn't been lost on Murphy, who traveled to the U.S. commonwealth this month and called for more federal money to help Hurricane Maria victims.

"With projections of as many as 100,000 Puerto Ricans immigrating to Florida, this could have a major impact on that congressional race," said Greg Speed, president of America Votes, a national group that works to boost Democratic turnout. "Engaging this community and turning them out to participate in the midterms will be important."
Murphy's district, rated as evenly divided, will be one of those critical in determining whether Republicans keep control of Congress. The party that occupies the White House almost always loses seats at the midpoint of a presidential term, and Democrats need a net gain of 24 to win a majority.
Maria's Millstone
While Murphy's district is expected to be among those to see the biggest influx of Puerto Ricans, new arrivals to the nation's third-largest state could alter its broader politics in 2018 and beyond. Democrats are already working hard to tie Republicans in Florida to Trump, who has been criticized for his response to the island's crisis and has responded in kind.
Florida's 7th Congressional District is a battleground within a battleground, a state where the last two presidential and governor's races were decided by roughly 1 percentage point or less.
Officials estimate 100,000 or more Puerto Ricans will relocate to Florida, at least temporarily. Many are expected to arrive in the Orlando area, where they have family ties, and an unemployment rate hovering around 4 percent means there's demand for workers. As U.S. citizens, they can vote in any state.
Read more: Is Puerto Rico Part of the U.S.? -- a QuickTake Q&A
Beyond politics, there will be plenty of other ramifications. School districts in central Florida are preparing for the new arrivals, and various government agencies are gearing up for their health and housing needs.
"Before the storm, a lot of people were on the fence about leaving for good, due to the economic situation, and this sort of made the decision easier," said Omar Halabi, a San Juan resident who owns a travel agency. "You'll see a segment of the population that leaves won't come back."
School's Out
Esther Cruz may well be one. "Maria was a tipping point," she said, as she waited to board a flight from San Juan to Orlando with her husband, three teenage children, a Chihuahua named Lola and a cat called Buddy.
Cruz's house was unharmed, but she said she couldn't risk staying with so much uncertainty. "It's not like I don't see anything for us in Puerto Rico, but for my family, it's time," she said. "We just don't know what will be here in terms of the economy, their education."
Puerto Rico Governor Ricardo Rossello has warned that millions of his 3.4 million constituents could flee for the mainland if sufficient aid doesn't arrive soon to stem the humanitarian crisis that's unfolded since Maria struck Sept. 20.
"The Democrats will be there trying to mobilize them the moment they arrive," said Susan MacManus, a University of South Florida political-science professor. "The key will be geographical concentration and cohesiveness."
Florida is already home to more than 1 million Puerto Ricans, with the vast majority in the Orlando and Tampa areas. Immigration has been on the upswing in recent years as island residents fled high unemployment, crime and the commonwealth's record $74 billion bankruptcy.
Paltry Portion
Although Trump won Florida in 2016, he carried just 35 percent of the Latino vote, exit polls show. Among Latinos, a group that represented 18 percent of the state's electorate, Democrat Hillary Clinton had an almost 3-to-1 advantage among Puerto Ricans.
Republicans have said they view Murphy's district as one of their top targets. The National Republican Congressional Committee has already targeted her with a billboard along Interstate 4, which runs through most of the competitive counties.
In 2016, Murphy beat Republican John Mica, a 24-year incumbent who had chaired the powerful Transportation and Infrastructure Committee, with a margin of 3 percentage points. For 2018, the district is listed as "Lean Democratic" by the nonpartisan Cook Political Report, which ranks it "even" in its partisanship index.
The district is already 12.7 percent Puerto Rican, U.S. Census estimates show. It ranks fifth among the 435 congressional districts for proportion of residents from the island, a Bloomberg Government analysis shows.
People First
Republican State Representative Mike Miller has already announced his candidacy, and a Republican state senator is considering a challenge.
"I'm hoping that I can talk to them about the values that I share with them," said Miller, adding that he's more worried right now about the humanitarian needs of new arrivals than in their politics.
Murphy, who traveled to the commonwealth as part of a congressional delegation Oct. 7, declined an interview request about how Puerto Ricans might influence her re-election.
Carlos Guillermo Smith, a Democratic state representative from Orlando, said anger over the Trump administration's handling of the recovery will help his party.
"I've talked to a lot of Puerto Ricans here in Orlando and on the island who are very frustrated with the Trump administration's painfully slow response to this crisis, and feel the government has abandoned them," he said.
A Quinnipiac University poll released Oct. 12 showed a slim majority of U.S. voters, 52 percent to 43 percent, think Trump doesn't care about the problems facing Puerto Rico after Maria. Among Hispanics, it's 72 percent.
As Puerto Ricans flee, Republicans are also looking to woo the potential pool of new voters.
The Libre Initiative, a conservative nonprofit group that works with Latino communities and receives funding from billionaire industrialists Charles and David Koch, is boosting its outreach to meet the influx of Puerto Ricans in central Florida, said Daniel Garza, a former George W. Bush administration official who launched the organization in 2011.
Garza said it's wrong to assume Puerto Ricans will naturally fall in line with Democrats.
"You've had territory-wide Republican candidates in Puerto Rico that have been elected to office, including former Governor Luis Fortuno,'' he said. "It depends on who is willing to do the hard work on the ground, who is willing to do the outreach.''
Before it's here, it's on the Bloomberg Terminal.
LEARN MORE