Liberia's Weah, Boakai Heading for Presidential Runoff Vote
By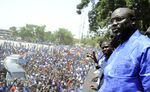 Former A.C. Milan soccer starter George Weah and Vice President Joseph Boakai are heading for a second-round runoff vote in Liberia's presidential election as they have the most votes with 96 percent of polling stations tallied.
Weah had 39 percent of the vote and Boakai got 29.1 percent, with about 1.5 million ballots counted, Jerome Korkoya, chairman of the National Elections Commission, told reporters on Sunday in the capital, Monrovia. The turnout was close to 75 percent.
The run-off vote will be scheduled in November as none of the 20 candidates will garner a 50 percent majority.
Read More: Liberians Elect New President As Johnson Sirleaf Steps Down
Liberians are choosing a leader to replace President Ellen Johnson Sirleaf, who steps down after 12 years in office. The election could see Liberia transfer power from one elected leader to another for the first time in more than half a century.
"The next time you hear from us tomorrow, we may announce results from all polling stations," Korkoya said.
Before it's here, it's on the Bloomberg Terminal.
LEARN MORE