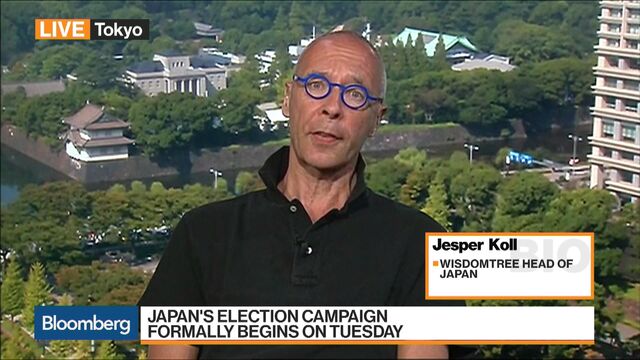 Polls show that Prime Minister Shinzo Abe is on track to win Japan's Oct. 22 election, putting the 63-year-old on course to keep his job through 2020 and become the longest-serving leader in the country's history. Victory for Abe would likely prolong the loose monetary policy Japan has deployed to kick-start its economy. It might also open the way for a few more rounds with Abe's new golf buddy, U.S. President Donald Trump.
1. What's at stake for the economy?
Abe's monetary easing policy is more likely to stay in place while Abe remains at the helm. While his economic program, dubbed Abenomics, hasn't reached his target of overcoming deflation, the economy has seen six straight quarters of growth and unemployment is less than 3 percent. The Nikkei 225 stock average closed at its highest since 1996 on Oct. 11.
2. What are the main issues in Abe's campaign?
He wants approval for his plan to divert revenue from an upcoming hike in the sales tax to a 2 trillion yen ($18 billion) education package focused on lower-income families. This will mean putting off a timeline for reining in the country's swollen debt. Abe also wants a mandate for his stance on North Korea, which focuses on implementing sanctions strictly, rather than opening a dialogue. That approach chimes with Trump's policy.
3. How is Abe's relationship with Trump?
In February, Trump spoke of his chemistry with Abe over a two-day visit that featured hugs, hand-holding and five hours on the golf course. The two leaders have spoken regularly on the phone as tensions with North Korea escalate, and may play golf once more when Trump comes to Japan for a visit next month. Abe turned on the charm on a visit to the U.S. before Trump's inauguration, presenting him with a Japanese-made golf club. Unlike Tokyo Governor Yuriko Koike, leader of Japan's opposition Party of Hope who has expressed concern about Trump's administration, Abe has been careful to praise the president. 
4. Why did Abe call an early election?
Abe was seeking to take advantage of an opposition in disarray -- he need not have called the poll until December next year. Renewing his coalition's two-thirds' majority would allow him a shot at achieving his ambition of changing Japan's pacifist constitution. His gamble looks set to pay off. The challenge from Koike is forecast to flop, with polls indicating she will probably take few seats from Abe's ruling coalition even though he's less popular than in previous years.
5. What will be the effect of Koike's challenge?

After a brief spike in popularity, Koike's re-appearance in national politics just over a year after she took over as Tokyo governor may have succeeded only in further splintering an already disorganized opposition. Her cooperation with conservative members of the opposition Democrats prompted others to form a new center-left group -- the Constitutional Democratic Party. This division of anti-Abe votes will probably help his ruling Liberal Democratic Party win seats, even though approval for his cabinet fell to 37 percent in a poll published by the Nikkei newspaper Oct. 12. Disapproval was at 48 percent. The CDP may even edge Koike to second place, a Sankei newspaper survey showed.
6. How many seats could Abe win?
A series of large polls by domestic media showed the ruling coalition could secure 300 seats or more of the 465 up for grabs -- close to the two-thirds' majority it held before the election. Kyodo News estimated the two coalition parties would win a combined 319 seats, compared with about 60 for Koike's party and 33 for the left-leaning Constitutional Democratic Party.
7. What happens on the day?
Voters must make two choices at the ballot box: one for their local constituency and another for a proportional representation bloc. Voting closes at 8 p.m. and major TV networks will reveal the results of their exit polls at that point. The total number of seats is set to be cut to 465 from 475 in this election, part of a reform plan aimed at reducing the disproportionate weight given to rural areas. As of Sept. 26, the LDP and its associates had 287 seats and its coalition partner Komeito had 35, for a total of nearly 68 percent. The Democratic Party was the second-largest party, with 87 seats in cooperation with the Club of Independents.
The Reference Shelf
Before it's here, it's on the Bloomberg Terminal.
LEARN MORE