FCC Chief Is 'Complicit' in Trump's NBC Threat, Ex-Chairman Says
By
Wheeler blasts Chairman Pai's silence on president's tweet

Commissioners must back free speech, Democratic member says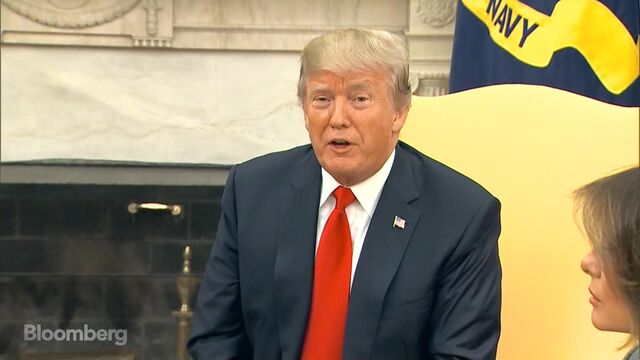 U.S. Federal Communications Commission Chairman Ajit Pai is "complicit" in Donald Trump's threat to revoke broadcast licenses of news stations by not speaking out against the president, the former chairman of the agency said.

Tom Wheeler, who led the FCC during President Barack Obama's second term, said Sunday that Pai's silence in defending the First Amendment against the president is "shocking."
"He is making himself complicit in the coercion that the president was engaging in when he was trying to send a message to broadcasters saying, 'We're watching, and we control your right to be alive,"' Wheeler said Sunday on CNN's "Reliable Sources."
Trump on Oct. 11 mused about whether FCC licenses should be taken from NBC after the network published a story saying he'd called for a tenfold increase in the U.S. nuclear arsenal in a meeting with military and security officials.
The president later told his 40.6 million Twitter followers that, "Network news has become so partisan, distorted and fake that licenses must be challenged and, if appropriate, revoked. Not fair to public!"
The FCC doesn't license networks. It issues licenses to owners of television stations, which must be periodically renewed. NBCUniversal, the parent company of the network, is owned by Comcast Corp., which owns 10 NBC stations, including in New York and Los Angeles. The television network also broadcasts through more than 200 stations owned by independent businesses.
A spokesman for the FCC didn't respond to an email seeking comment. Pai, a Republican FCC member since 2012 who was elevated to chairman by Trump in January, said last month in Washington that freedom of speech "should unite Americans across the ideological spectrum."
Read more: FCC Chief, 'Defender of 1st Amendment,' Silent on Trump-NBC
Jessica Rosenworcel, a Democratic FCC commissioner, said on CNN Sunday that the FCC must support the First Amendment and can't dictate what content should be on the airwaves.
"History won't be kind to silence," she said. "It's important for all the commissioners to make clear that they support the First Amendment, and that agency will not revoke a broadcast license simply because the president is dissatisfied with the licensee's coverage."
Before it's here, it's on the Bloomberg Terminal.
LEARN MORE