China Credit Growth Exceeds Estimates Despite Debt Curb Vow
Bloomberg News
The broad M2 money supply picked up from the prior record low

Policy leaves little hope of further easing: Commerzbank
China's broadest gauge of new credit exceeded projections, signaling that the funding taps remain open even as the government pushes to curb excessive borrowing.
Key Points
Aggregate financing stood at 1.82 trillion yuan ($276 billion) in September, the People's Bank of China said Saturday, compared with an estimated 1.57 trillion yuan in a Bloomberg survey and 1.48 trillion yuan the prior month
New yuan loans stood at 1.27 trillion yuan, versus a projected 1.2 trillion yuan
The broad M2 money supply increased 9.2 percent, exceeding estimates and picking up from the prior record low

Big Picture
Policy makers have been clamping down on shadow banking while also working to keep corporate borrowing intact to avoid impeding growth. The central bank said Sept. 30 it will reduce the amount of cash some banks must hold as reserves from next year, with the size of the cut linked to lending to parts of the economy where credit is scarce.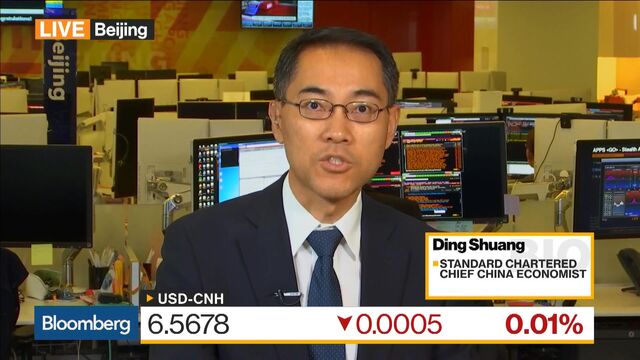 Economist Takeaways
"Momentum continues to be very strong," said Kenneth Courtis, chairman of Starfort Investment Holdings and a former Asia vice chairman for Goldman Sachs Group Inc. "Loan demand of the private sector has finally turned up in recent months."
"This means that there is little hope of further policy easing in the fourth quarter as the monetary policy is very accommodative," said Zhou Hao, an economist at Commerzbank AG in Singapore. "There could be even a tightening bias."
"Household short-term loans have increased too rapidly, with some funds being invested in stock and property markets," said Wen Bin, a researcher at China Minsheng Banking Corp. in Beijing. "Regulators have started to pay attention to the sector and required banks to strengthen credit review. I think the momentum will show signs of slowing in the fourth quarter."
"Deleveraging is not happening if we look at any measure of credit growth," according to Christopher Balding, an associate professor at the HSBC School of Business at Peking University in Shenzhen. "Lending in 2017 has actually accelerated significantly from 2016."
Bloomberg Intelligence
On the eve of the Party Congress, credit stayed on a rapid expansion path, which is a boost for short-term growth but a further delay on the deleveraging agenda, according to Asia economist Tom Orlik.
"The government is aiming to deleverage without moving any great distance from its commitment to 6.5 percent annual GDP growth out to 2020," he wrote in a report. "That implies credit to the real economy will have to stay on a rapid growth path."
The Details
Household short-term loans increased 1.53 trillion yuan, versus 524.7 billion yuan in same period last year 
Outstanding aggregate financing rose 13 percent to 171.2 trillion yuan
Entrusted loans, trust loans and undiscounted bankers' acceptance bills -- which together illustrate shadow financing -- have kept growing 

Entrusted loans, organized by a bank between borrowers and lenders, added 684.5 billion yuan from January to September
Trust loans, made by trust companies to finance infrastructure and real estate, added 1.79 trillion yuan from January to September
Bankers' acceptance, short-term credit issued by a company with a bank's guarantee, added 465.9 billion yuan from January to September
— With assistance by Yinan Zhao, Kevin Hamlin, and Kelly Li
Quotes from this Article
Before it's here, it's on the Bloomberg Terminal.
LEARN MORE