Your Evening Briefing
Here are today's top stories
Bloomberg News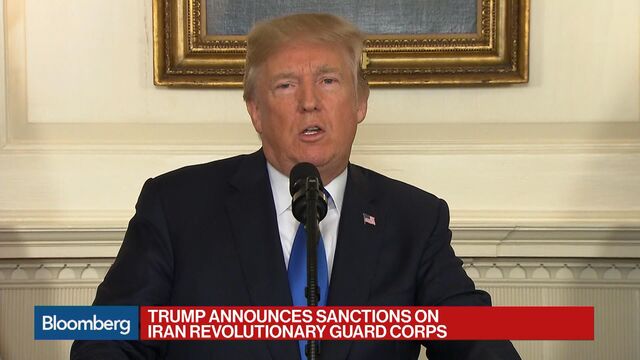 Want to receive this post in your inbox every afternoon? Sign up here.
This was the week Wall Street went crazy over cryptocurrencies. Bitcoin surged to record highs and banks have never been more interested. Even JPMorgan's Jamie Dimon, who has made his feelings on the matter very clear, can't help getting caught up in the buzz. On Thursday, Dimon vowed: "I'm not going to talk about bitcoin anymore." He lasted one day.—Katie Robertson
Trump declares harder line on Iran. In a White House address Friday, President Trump refused to certify that Iran is in compliance with the multinational accord to curb its nuclear program, though he stopped short of pulling out of the deal. He used his strongest language yet in lashing out at the Islamic Republic, calling it a "fanatical regime" that's determined to spread terrorism and aggression around the world.
Trump takes on Obamacare's political risks. The president's decision late Thursday to end government subsidies to insurers helping lower-income Americans afford coverage under the Affordable Care Act was his most drastic step to undermine Obamacare. The move could also mean that the government will end up spending almost $200 billion more on health insurance.
Qualcomm files lawsuits in China seeking a ban on iPhones. The San Diego-based company aims to inflict pain on Apple in the world's largest market for smartphones and cut off production in a country where most iPhones are made. It's the chipmaker's biggest shot at Apple so far in a sprawling and bitter legal fight.
Goldman explores options for its stake in Harvey Weinstein's studio. The bank was an initial investor in the Weinstein Company and has a less-than-$1 million stake. Weinstein was booted from the company after allegations that he had sexually harassed and assaulted women over decades. The movie studio is busy removing all traces of the embattled co-founder, but public relations experts say it's not enough.
Deadly fires stretch an already tight housing market. The fires ravaging Northern California's wine country have left thousands without homes, and from a real estate perspective, the disaster is happening in one of the worst-possible places. The area has already been squeezed by a severe housing crunch and escalating values, leaving few options for people to live while homes are being rebuilt.
How the Pentagon spun Hurricane Maria. U.S. officials inadvertently included Bloomberg climate reporter Christopher Flavelle on an internal email list discussing their evolving strategy for presenting the U.S. response to the hurricane that hit Puerto Rico in September. It offers a glimpse into the federal government's struggle to convince the public that their relief efforts were going well.
Does Monet beat the Dow? Everyone loves a story about collectors who bought art for a song and sold it for a million. In absolute dollars, the prices paid for paintings in the 1920s pale in comparison with the works' value today. But how does art stand up to a more traditional investment such as buying blue chip stocks?
Before it's here, it's on the Bloomberg Terminal.
LEARN MORE