Warning Signs Are Mounting for Sweden's Once-Hot Housing Market
By and
Apartments for sale have hit a nine-year high as prices cool

Stocks of real estate developers are in retreat amid concerns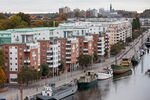 There's no shortage of warning signs that Sweden's housing market could be going from red-hot to icy cool.
At the most basic level, it's all about supply and demand. The number of apartments up for sale just hit a nine-year high, but the flood hasn't been followed by a gain in purchases.

There's also a massive increase in construction. Apartment starts jumped to 15,700 in the second quarter, the highest level since at least 1996. Total starts (multi-dwelling buildings and one- or two-dwelling properties) surged to 19,350, just shy of the peak at the end of 2006 (there was a rush to start projects then as the government decided to lower housing subsidies).

Real estate agents are having problems unloading properties. Fewer people are showing up at viewings and sales are dragging on as buyers and sellers drift apart on price. According to Svensk Maklarstatistik, which collects housing data, the average time it takes to sell an apartment rose to 34 days in the past three months from 31 days a year earlier. For single-family homes, it now takes 41 days versus 39 days earlier.
"We have a gap between the sell and the buy side, in terms of how they value homes," Henrik Rundgren, the deputy chief executive officer of real estate agent Notar, said in an emailed response to questions. "That leads to longer sales periods, which in turn has led to an increase in the supply of homes."
SEB AB's monthly housing-price indicator shows households are becoming less optimistic about the market. The gauge, which measures the difference between those who see rising housing prices and those who believe in a decline, has dropped to its lowest level since August 2016. While 66 percent of Swedes still expect prices to rise, and only 16 percent believe in a decline, the indicator has dropped for four consecutive months.

According to SEB, upcoming housing sales data, signals on the direction of interest rates and proposals by the financial regulator to tighten mortgage rules will have a big impact on developments ahead.
Data published by Valueguard on Friday showed that home prices dropped 1.5 percent in September, the steepest drop since Oct. 2012. All big Swedish cities showed a decline in prices, though the development was most pronounced for Stockholm apartments, which fell 2.2 percent.

Regulators have been tightening regulations to cool debt growth. Swedes are now subject to a mortgage cap, limiting loans to 85 percent of a property's value, and an amortization requirement, which forces borrowers pay off the part of their new loans that exceeds 50 percent of the property's value. The regulator now wants to introduce an additional amortization requirement for the most indebted households, and has also floated the idea of a cap on loans in relation to incomes.
The impact of such measures have been clear, with a slowdown in growth both after the mortgage cap was introduced in 2010 and the amortization requirement came into force in June last year.

Data from Maklarstatistik reinforces that view, showing that housing-price increases slowed after the pay-down requirement was introduced. The annual gain in apartment prices was 6 percent in September, down from as high as 16 percent in late 2015, while house price increases have slowed to 9 percent from as high as 12 percent in late 2015.

The question now is whether regulators will go too far in their zeal to cool the market.
Developers are taking action to prepare for a slowdown. Wallenstam AB said this month it would convert 90 apartments in a development in the Stockholm neighborhood of Solberga to rentals rather than trying to sell them. The situation is "a bit uncertain," with the market for ownership apartments having "cooled down," Wallenstam said on Oct. 9.
Tobin Properties AB has taken similar action, announcing on Oct. 11 that it will broaden its product offering to also include rental apartments.
Investors are taking notice. Shares of many property developers, including JM AB and Oscar Properties AB, have tumbled in recent months amid speculation the housing market is heading into difficult territory. Developers focusing mainly on rentals, such as Wallenstam, have fared better.

These fears are also spreading to some bank shares. Swedbank AB, the country's largest mortgage lender, was downgraded to hold from buy at Nordea Bank AB on Oct. 11 "as the housing market is an increasing concern to us, posing a threat to mortgage margins."
Deutsche Bank AG followed on Oct. 12, cutting its recommendation on Swedbank to sell from hold due to concerns about the housing market.
"We see Swedbank as the most exposed of the Swedish banks to a slowdown in the Swedish housing market, which we believe will become increasingly evident in coming quarters," Deutsche Bank analyst Kim Bergoe said in a note.
Quotes from this Article
Before it's here, it's on the Bloomberg Terminal.
LEARN MORE