Venezuelan Opposition Chief Says Maduro May Block His Visit to Russia
By , , and
Congress Speaker Borges seeks to open dialogue with Kremlin

Russia acknowledges first contacts with Maduro's opponents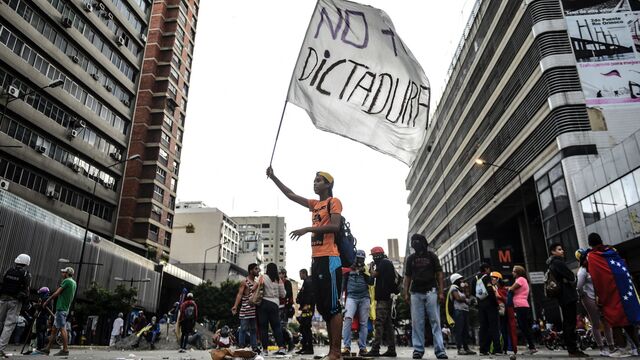 A key critic of Venezuelan President Nicolas Maduro says he may be barred from traveling to Russia, where he'll seek to build relations with one of the ailing regime's few foreign backers.
National Assembly President Julio Borges plans to leave Venezuela over the weekend to attend an international parliamentary forum in St. Petersburg and meet with Russian lawmakers. "In theory, I leave on Sunday," he said in a text message. "It's not certain the government will let me leave."
The opposition has received information that the government intends to annul Borges's passport to stop him from flying to Russia, said Alejandro Martinez Ubieda, who's already in St. Petersburg as secretary of the Venezuelan delegation at the forum. The Venezuelan Embassy in Moscow and the Russian Foreign Ministry didn't respond to requests for comment.
Maduro visited Russia last week to reaffirm the alliance with the South American nation which is in crisis after the collapse in oil prices and increasingly reliant on Kremlin aid. Russia's biggest oil company, state-run Rosneft, has provided several billion dollars in advance payments for crude supplies that have helped the Venezuelan government as it struggles to meet its financial obligations. Now the Kremlin may be hedging its bets by establishing links to the opposition that's challenging Maduro's socialist regime.
Russia Contacts
Borges last month traveled to Europe to rally support after Maduro set up a new legislative super body packed with government loyalists to take over functions of the congress, which is under opposition control. He met with leaders including Germany's Angela Merkel, France's Emmanuel Macron and the U.K.'s Theresa May.
He's now turning his attention to Russia, after Foreign Minister Sergei Lavrov disclosed that the government in Moscow was ready for discussions with Venezuela's opposition. "We are not avoiding these contacts. On the contrary, we are actively working and encouraging the government and the opposition to negotiate," Lavrov said in New York, on the sidelines of the United Nations General Assembly in September.
Maduro and his government "are trying to avoid Borges's participation here," Ubieda said by phone Friday. The Venezuelan lawmakers are due to meet their Russian counterparts at the parliamentary forum, the Foreign Ministry in Moscow said.
In the first such outreach to Russia, Borges met with the Russian ambassador in Caracas about a month ago, said Ubieda, who also held discussions with the envoy before traveling to St. Petersburg.
'Important Relationship'
"We have to transmit the notion that the democratic opposition is not classifying the friends of the government as our enemies," he said. "We think we have to have an important relationship with Russia and we want to open a channel of communication."
The Inter-Parliamentary Union sent a letter to Maduro earlier this month asking him to ensure that Borges and other delegation members be allowed to travel freely to Russia, according to a copy seen by Bloomberg. The association of more than 170 parliaments around the world, which is holding a congress in Russia's former imperial capital, didn't respond to a request for comment.
Opposition leaders have criticized Rosneft's growing investments in Venezuela, where years of unrelenting recession have sparked a political crisis and left many people unable to buy even basic necessities. The Venezuelan government is under pressure to meet debt commitments including more than $2 billion in bond payments by November 2, while Russia is in talks on restructuring bilateral loans.
Borges's trip seeks to shore up international support for congress, which Maduro has tried to supersede entirely by installing the legislative super body, according to Elsa Cardozo, professor of international relations at the Central University of Venezuela in Caracas. "It's an important moment for reaffirming the legitimacy of the National Assembly," she said.
The decision to seek dialogue with the Kremlin shows a "pragmatic" approach by Maduro's opponents as they seek to outmaneuver the Venezuelan leader, said Dmitry Rozental, an expert at the Institute for Latin American Studies in Moscow. "There's no point in ruining ties with Russia," he said.
Before it's here, it's on the Bloomberg Terminal.
LEARN MORE