Teamsters Push to Strip Cardinal Health CEO of Chairman's Role
By
Letter accuses CEO Barrett of setting wrong tone on opioids

Similar proposal prompted McKesson to separate jobs in future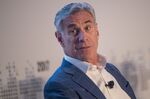 The International Brotherhood of Teamsters is taking aim at Cardinal Health Inc. in the union's quest to demand accountability from companies it says are responsible for fueling the U.S. opioid crisis, and it's asking other shareholders to join in.
In a letter Friday, the Teamsters called on the drug distributor's investors to support a shareholder proposal seeking to appoint an independent chairman, potentially stripping the title from George Barrett, who has been chief executive officer since 2009.
"While the opioid epidemic engulfs our communities and exposes shareholders to growing risks, Cardinal Health has continued to evade responsibility and reward executives who have turned a blind eye to the tragedy we face," Ken Hall, general secretary-treasurer for the Teamsters, said in an emailed statement. "Our nation deserves better from Cardinal, and that starts with reforms that cement the kind of independent and accountable leadership required to address the opioid crisis."
The epidemic has emerged as one of the nation's most pressing public health matters, claiming a life every 19 minutes, according to the U.S. Surgeon General. President Donald Trump has called it a national emergency -- though he has yet to formally declare one. 
Several states, counties and cities have sued drugmakers and distributors including Cardinal, saying the companies aggravated the crisis with misleading marketing and reckless distribution.
In its Sept. 21 proxy statement, Cardinal said its current leadership structure is effective and that the board has "actively and appropriately engaged in overseeing our compliance and opioid anti-diversion programs." The company has "state-of-the-art" controls and 85 specialists focused on preventing diversion, the filing said. 
Ellen Barry, a Cardinal spokeswoman, declined to comment beyond the filing.
Cardinal's annual meeting will be held on Nov. 8th.
Suspicious Orders
Cardinal purchases drugs from manufacturers and sells them to pharmacies and hospitals. The Dublin, Ohio-based company generated about $130 billion in revenue last year, more than General Electric Co. and JPMorgan Chase & Co. It is required to monitor shipments and flag suspicious orders to the Drug Enforcement Administration.
In the past decade, Cardinal has paid almost $100 million to settle litigation over its failure to report such orders of controlled substances, including opioids, according to the letter. Cardinal's board has "proven itself inadequate in tackling" the company's "decade-long role in fueling the opioid crisis," Hall wrote in the letter, accusing the CEO of setting the wrong "tone at the top."
Barrett has collected tens of millions of dollars in compensation and Craig Morford, the chief compliance officer who's responsible for Cardinal's regulatory and compliance program, repeatedly received bonuses above target, according to the letter. Annual bonus payments are based on earnings and use of capital, regulatory filings show.
The Teamsters, with more than $100 billion in pension and benefit assets, began its campaign for governance reforms at companies in the drug business last year after several of its 1.4 million members spoke out about how the opioid crisis affected them and their families. The union and its affiliated funds own Cardinal stock worth more than $27 million.
A similar proposal to separate the CEO and chairman roles at drug distributor McKesson Corp. drew support from 40 percent of voted shares at the company's July 26 annual meeting. In response, the board adopted a policy that will split the jobs after John Hammergren, the current chairman and CEO, steps down.
Before it's here, it's on the Bloomberg Terminal.
LEARN MORE