Serbia Rebukes U.S. Ambassador Over War Criminal Tweet
By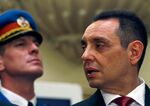 Serbian government officials rebuked the U.S. ambassador to the Balkan country for his comment over the participation of a war-crimes convict in an army celebration, saying the official shouldn't meddle in internal affairs.
Ambassador Kyle Scott said in a Tweet on Wednesday that "a single statement could undermine months of work on improving Serbia's image in the U.S." He also posted an Associated Press story on Serbian Defense Minister Aleksandar Vulin praising a convicted war criminal at a weekend ceremony. Former General Vladimir Lazarevic, who was sentenced by a UN war-crimes tribunal for atrocities committed by Serb troops in Kosovo during NATO's air strikes, was among ex-army chiefs who attended, AP reported.
Foreign Minister Ivica Dacic, once a spokesman for late Serb strongman Slobodan Milosevic, told reporters on Thursday that neither the ambassador nor any other diplomat has the right to interfere in Serbia's internal affairs. Last year, Interior Minister Nebojsa Stefanovic criticized Scott for "brutally" interfering in domestic affairs after he commented on protests that followed a demolition of buildings in a riverfront neighborhood in Belgrade.
Serbia, which wants to join the European Union, is also trying to maintain good relations with Russia, its traditional ally and backer of Serbia's refusal to recognize Kosovo as a state.
Before it's here, it's on the Bloomberg Terminal.
LEARN MORE