SEC to Review Guggenheim's Bob Diamond-Linked Investments
By and
SEC questioning if ties make Guggenheim investments improper

Rules restrict firms from investing in related entities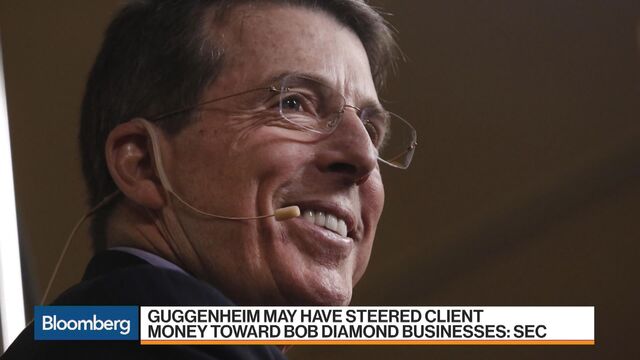 U.S. regulators are reviewing whether Guggenheim Partners inappropriately steered client money into Bob Diamond's businesses, said two people familiar with the matter.
The review is part of a broad examination of Guggenheim by Securities and Exchange Commission lawyers in Los Angeles, the people said. Guggenheim hasn't been accused of any wrongdoing and SEC scrutiny doesn't always lead to sanctions. There is no indication the regulator is looking into the conduct of Diamond or his companies. The review is focused on the appropriateness of Guggenheim's investments.
Guggenheim has been a shareholder of Diamond's African banking venture, Atlas Mara Ltd., since its 2013 initial public offering. Over time, the relationships have spread and gotten deeper, as Guggenheim mutual funds and insurers associated with the firm have invested in multiple Diamond-related companies.
The SEC is looking at whether the connections are extensive enough that -- under financial rules -- Diamond's businesses could essentially be deemed affiliates of Guggenheim, said the people who asked not to be named because the review isn't public.
Investment Restrictions
Fund managers such as Guggenheim are restricted from investing in related entities, protections meant to prevent firms from helping themselves at the expense of their clients. In addition to looking at ties to Diamond, the SEC also wants to know whether Guggenheim properly disclosed its Atlas connections.
Guggenheim, a sprawling enterprise known for its mutual funds, its investment banking business and its senior executive's ownership of the Los Angeles Dodgers, has acknowledged the SEC is reviewing the firm. In a Sept. 20 interview with CNBC, Chief Investment Officer Scott Minerd said there was no reason for concern, calling the examination routine and adding that Guggenheim was cooperating.

Read more: The clash between Guggenheim's top executives
Spokesmen for Guggenheim, Diamond and the SEC declined to comment.
The SEC's inquiry adds to headaches for Guggenheim. Current and former employees have said the $295 billion firm is beset with rivalries and concerns that it is fracturing as top managers, including Minerd and Chief Executive Officer Mark Walter, fight over the direction of the company.
Diamond Ties
Minerd's relationship with Diamond dates back to the early 1990s when he worked for the prominent banker at Morgan Stanley in London. Minerd later returned to the U.S. and followed Diamond to Credit Suisse First Boston. 
While Guggenheim initially invested in Atlas Mara, regulatory filings show the connections increased four months later when insurers owned by Guggenheim's largest shareholder, Sammons Enterprises, paid more than $5 million for stakes in Atlas Merchant Capital LP, a separate Diamond company.
Atlas Mara is a publicly traded firm that has purchased stakes in African banks and Atlas Merchant is a private-equity firm that focuses on financial industry assets in developed markets.

Also in 2014, Guggenheim had connections to an even bigger deal involving Diamond's businesses when the Sammons insurers invested $200 million in an Atlas Merchant fund, said people with direct knowledge of the transaction. The Wall Street Journal reported on the Atlas Merchant investment last month. In another transaction from 2015, Guggenheim mutual funds bought $20 million of Atlas Mara's debt. 
Handling Conflicts
Among the issues the SEC is examining is how Guggenheim handled potential conflicts of interest between its mutual funds and other affiliates that have direct stakes in Diamond's businesses, the people familiar with the regulator's inquiry said. The agency also is reviewing whether Guggenheim appropriately disclosed any conflicts to its investors, according to the people.
Guggenheim isn't new to SEC scrutiny. In 2015, it agreed to pay a $20 million fine for allegations including not telling investors that a senior executive received a $50 million loan from one of the firm's clients.
The Guggenheim executive was co-founder Todd Boehly, while the client who lent him money was famed bond investor Michael Milken, people familiar with the matter have said. Guggenheim, which didn't admit or deny the SEC's findings that the loan posed a potential conflict of interest, agreed to hire an independent compliance consultant.
Spokesmen for Boehly and Milken declined to comment.
Slumping Shares
Diamond formed Atlas Mara after stepping down as Barclays CEO in 2012 amid outrage from U.K. politicians over allegations that some of the bank's traders manipulated benchmark interest rates. Regulators never accused Diamond of wrongdoing. Some former Barclays traders were later prosecuted and the bank paid billions to settle claims that it engaged in misconduct.
Things haven't gone as planned at Atlas Mara. Its shares have tumbled 75 percent since its IPO. The company has been hurt by the fizzling of a commodities boom that had made Africa an investment hot spot.
— With assistance by John Gittelsohn, Donal Griffin, and Katherine Chiglinsky
Before it's here, it's on the Bloomberg Terminal.
LEARN MORE