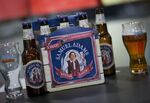 What'll it be -- wine, beer, a hard drink? One of each perhaps?
Adult-beverage giant Constellation Brands Inc. has made a lucrative bet that consumers increasingly don't discriminate when buying booze. And that thinking has underpinned a takeover spree, with signs of more deals on the way. 
Constellation -- known for Robert Mondavi wines, Corona within the U.S. and Svedka vodka -- said this month that more than half of consumers "are shopping and drinking across all three categories." Maybe that's just the spirit of 2017, or maybe it's another way in which millennials are upending the retail world. In any case, Constellation's strategy to have a stake in all three markets while zeroing in on the most profitable premium brands in each is paying off.

It's worth highlighting Constellation in a week when negative news surrounds the alcohol industry, from concern that a decidedly stay-at-home Generation Z will hurt U.S. liquor sales, to the devastating wildfires in the Napa and Sonoma counties of California that are expected to be detrimental to wine producers. 
Constellation, which is the largest wine company in the U.S., said it closed tasting rooms in areas near the fires. But fortunately for Constellation, about 75 percent of its domestic wine production occurs at Woodbridge Winery in Acampo, California; Canandaigua Winery in Canandaigua, New York, and Mission Bell Winery in Madera, California, according to Sonia Vora, an analyst at Morningstar Inc. So this shouldn't have a material effect on the business, though if it had, Constellation's diversified nature might have provided at least some insulation. 
Options trading still reflected some skittishness this week, and the company's shares slipped about 2 percent as of midday Friday from their closing high of $210.11 apiece last week. It was then that Constellation reported a 3 percent increase in sales for its second quarter and boosted its earnings outlook for the year. Analysts predict continued quarterly revenue gains of 3.5 percent or higher for the foreseeable future. 
Some of that growth may come from past purchases -- such as Funky Buddha, a brewer it bought in August -- and some from future deals. On the recent earnings call, one analyst noted that Constellation's debt is now below management's target of 3.5 times Ebitda. CFO David Klein reiterated the goal but said they won't necessarily be "dogmatic to stay exactly at 3.5 times," cautioning listeners not to read too much into the small gap (the ratio is 3.1 by Bloomberg's calculation). But how can we not, when Constellation is known to be acquisitive?

It could be that the company plans to turn to more share repurchasing. However, Constellation has recently demonstrated an appetite for large acquisitions, too. Earlier this year, it was spurned by Brown-Forman Corp.'s controlling family, who didn't mince words about their lack of interest in selling their whiskey company. It has a market value of $21 billion -- about half the size of Constellation's.
I've written previously that Boston Beer Co., the maker of Sam Adams, would be a perfect alternative candidate for Constellation as the brewer's founder Jim Koch, 68, thinks about succession. It's well known that Koch is opposed to selling his business to foreign rival Anheuser-Busch InBev SA. But Constellation may be a more palatable option as CEO Rob Sands -- whose brother ran Constellation before him, and their father, the founder, before that -- understands the sentimental attachment and has bought other family-run businesses without altering them too much. 
Boston Beer also fits Constellation's high-margin, premium-product strategy:

While Boston Beer's stock is up slightly for the year, the price is well below 2013-2015 levels. It doesn't seem like there's much upside in the near term. And wouldn't you know it, a deal for the $2.1 billion company would bring Constellation's leverage ratio right up to management's goal. 
Constellation is a smart and careful dealmaker, but its balance sheet has room for something bigger. With such a diverse portfolio, it has a few different casks to choose from. Boston Beer is one option.
Before it's here, it's on the Bloomberg Terminal.
LEARN MORE