Catalan Clock Ticks as Puigdemont Pressured by Separatist Allies
By
CUP, Catalan National Assembly demand declaration of secession

Deadline nears for Puigdemont to respond to Rajoy's ultimatum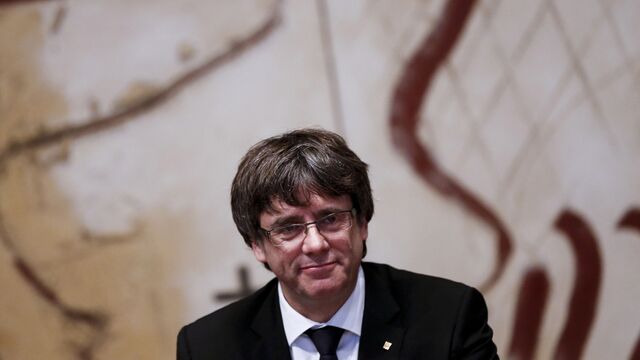 Secessionist allies piled pressure on Catalan President Carles Puigdemont to formally declare independence from Spain as a deadline looms for him to clarify his stance or face being stripped of his powers by the central government in Madrid.
CUP, a radical party that's part of Puigdemont's pro-independence coalition in the Catalan parliament, published a letter on Friday saying that the only way to protect democracy and civil rights would be to proclaim a republic. The Catalan National Assembly, a separatist civic group that organizes street protests, also called on him to go ahead with a declaration of independence.
The clock is ticking in Catalonia toward an Oct. 16 deadline set by Spanish Prime Minister Mariano Rajoy that risks triggering the suspension of self-rule from Barcelona. Rajoy, who reviewed the troops at a military parade in Madrid on Thursday to mark Spain's national day, is turning the screws on Puigdemont as he tries to hold his coalition together in the face of threatened legal reprisals for challenging the country's constitutional order.
"We have a very serious problem facing us which is a coup d'etat against democracy," Rafael Hernando, the head of Rajoy's People's Party group in parliament, said in an interview with TV channel Antena 3 Friday. "The state has many resources to confront this challenge so that no one carves up Spain."
Hernando said he "wasn't very optimistic" about Puigdemont's response because he has already taken the region to a state of confrontation that had resulted in more than 400 firms being "expelled" to other parts of Spain.
Catalan Parliament
In a speech to the Catalan parliament on Oct. 10, Puigdemont claimed the right to declare independence but stepped back from putting it into effect as he called for dialogue. Rajoy responded the next day by demanding that the Catalan president clarify his position on the independence declaration or face a possible suspension of the region's autonomy beginning Oct. 19.
Spain's benchmark IBEX 35 stock index was little changed at 4:55 p.m. in Madrid, after losing 2.3 percent between an Oct. 1 referendum on independence illegal under Spanish law and Puigdemont's address to lawmakers. Puigdemont must now decide whether to take the path of further confrontation with Madrid or risk losing his allies in Barcelona.
Deputy Prime Minister Soraya Saenz de Santamaria said the government may have to consider revising its economic growth forecast for 2018 if the Catalan crisis continues.
"The situation we're living through in Catalonia prompts us to be more prudent," she said in a news conference after a cabinet meeting in Madrid on Friday. The Catalan government still has time to return to legality but any negotiation would have to be within the framework of the law, she said.
"Neither CUP nor the ANC lead the government of Catalonia," former Catalan President Artur Mas said in an interview with regional broadcaster TV3. "There is a government and a president that have to take the decisions, the Catalan parliament is something else. The government can receive advice, recommendations, pressure, but it's still the government that takes decisions."
European Commission President Jean-Claude Juncker said he wouldn't like to see Catalonia secede because it could lead to a greatly inflated European Union. "I wouldn't like a European Union which in 15 years consists of 98 states," he said at a conference in Luxembourg. "It's difficult enough already with 28."
— With assistance by Thomas Gualtieri
Before it's here, it's on the Bloomberg Terminal.
LEARN MORE