Pound May Rally to $1.36 on a BOE Rate Hike: Barclays's Hassett
By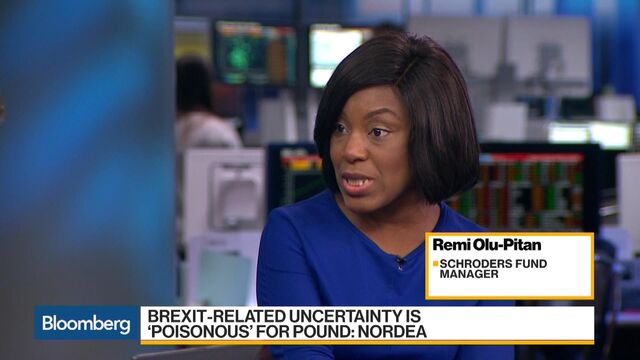 Stalled Brexit talks and the U.K.'s domestic political woes haven't really undermined the pound and a much-anticipated interest-rate increase next month could see the currency rally more than 2 percent to $1.36, according to James Hassett, head of foreign-exchange trading at Barclays Plc.
Sterling is heading for its first weekly advance in almost a month despite lingering tensions within the ruling Conservative party, doubts on Prime Minister Theresa May's political future and deadlocked Brexit negotiations. Hassett sees room for more near-term currency gains, saying domestic political risks are still relatively contained and economic data yet to take a significant downturn while the monetary-policy prospects turn hawkish.

The probability of the Bank of England raising its benchmark rate by 25 basis points at its Nov. 2 meeting is now more than 85 percent, money-market prices show. The market's assumption that it will be a "one-and-done" rate increase or a hike accompanied by dovish forward guidance is "not guaranteed," according to Hassett.
"More and more, the sentiment is that Theresa May is going to lead us through the Brexit negotiations as there isn't another credible alternative," he said. The BOE "might be keen in some sense to keep the sentiment that they could hike again if they felt it was warranted and that might support sterling in the medium term."
Quotes from this Article
Before it's here, it's on the Bloomberg Terminal.
LEARN MORE