Mnuchin Calls for World Bank to Wean Itself Off Public Funds
By
Treasury secretary rejects capital increase for World Bank

Mnuchin urges bank to become 'financially self-sustaining"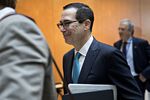 U.S. Treasury Secretary Steven Mnuchin rejected the idea of a capital increase for the World Bank and urged the development lender to put forward a plan to become financially self-sufficient.
"More capital is not the solution when existing capital is not allocated effectively," Mnuchin said Friday in a statement at the annual meetings of the IMF and World Bank in Washington. "Demand for cheap capital will invariably exceed its supply -- the key is to ensure that these resources are deployed where they are needed most and can achieve effective and sustainable results."
World Bank President Jim Yong Kim this week said the Washington-based lender needs its member countries to contribute more capital in response to surging demand for the institution's loans from emerging markets and developing economies.
Mnuchin not only shot down that idea, he called on the bank to "put forward a framework that can create a financially self-sustaining World Bank in which organic capital accumulation is sufficient to support future lending targets."
The statement echoes a proposal by former U.S. ambassador to the United Nations John Bolton to privatize international development banks such as the World Bank. Bolton was said to be in the running for secretary of state before President Donald Trump appointed Rex Tillerson.
Mnuchin is adopting a tougher tone than his predecessors toward the World Bank and the IMF, both conceived during the Second World War to combat global financial instability and promote open markets.
The U.S. contributed to $2.8 billion to the World Bank's main fund last year, and $569 million to the bank's arm that lends to the private sector, according to Treasury records.
In a separate statement, the Treasury secretary urged the IMF to find ways to save money, including by looking at how much it pays its employees.
Before it's here, it's on the Bloomberg Terminal.
LEARN MORE