Mnuchin Blasts IMF Spending After His Own Travel Cost Scandal
By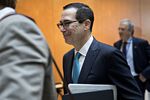 U.S. Treasury Secretary Steven Mnuchin wants to see the International Monetary Fund slim down its budget -- like cutting some fat from salaries and perks for employees.
"As a public institution -- just like the member institutions it monitors and advises -- the IMF should serve as a model on budget discipline and efficient use of limited resources," Mnuchin said in a statement during the IMF annual meetings in Washington on Friday. "Achieving this goal will necessarily entail tough choices, potentially with regard to management and staff salaries and benefits."
Salaries at the IMF, which is headquartered in Washington and has offices around the world, range from $30,380 per year for an entry-level staff assistant, to as much as $138,460 for a PhD-level economist and $389,060 for a departmental director, according to 2016 figures. Most IMF employees are exempt from income taxes, while U.S. nationals are compensated by the fund for the taxes on their earnings.
The U.S. has a big stake in the IMF budget because it's the fund's biggest shareholder.
Mnuchin himself got in hot water over his own public-funded spending on travel, which prompted an examination by the Treasury's oversight body. While the review found Mnuchin broke no rules in using military aircraft for seven flights, costing about $800,000 since early this year, it recommended he should exercise more "rigor" and provide more than "boilerplate" explanations to justify using government aircraft.
— With assistance by Andrew Mayeda
Before it's here, it's on the Bloomberg Terminal.
LEARN MORE