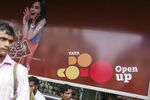 You can't run a $105 billion conglomerate without a chief financial officer.
Somewhat inexplicably, India's Tata Group tried to do just that. The folly of that five-year-long vacuum is being made evident by new Chairman Natarajan Chandrasekaran's pick for the job. Saurabh Agrawal, who came to the salt-to-software empire in July amid a lingering boardroom battle with the ousted previous chief, has already added a couple of fresh feathers to his dealmaking cap.
Last month saw the long-pending solemnization of the marriage of the group's European steel unit with Thyssenkrupp AG's metals business. At 1.5 billion euros ($1.8 billion), the value of Tata Steel Ltd.'s share of cost savings offsets a sixth of its humongous net debt pile.
On Wednesday night, Chandrasekaran and Agrawal did even better by rescuing the group's mobile services business from near-certain death. In a no-cash, no-debt transaction, the group is giving away its wireless spectrum and 40 million customers to Bharti Airtel Ltd., which is trying to protect its pole position in India's cutthroat wireless market.
Closure would also have meant curtains for Tata Teleservices Ltd.'s broadband and enterprise businesses, which Agrawal can now hawk to Tata Sky Ltd. and Tata Communications Ltd. 1 Plus, the group was on the hook for six more years on a tower-rental contract it couldn't have walked away from. Avoiding all that dislocation helps preserve value for Tata Teleservices, which owns 33 percent of Viom Networks, the infrastructure company controlled by American Tower Corp.
Still, it's a salvage operation. Even if all goes to plan, Tata's $6 billion in telecom liabilities won't be fully covered. And this is where India's beleaguered bankers should be saying "thank you" to Agrawal. At a time when they're battling $191 billion in soured corporate loans, Agrawal is at least not making lenders' Diwali any more unpleasant than it already is. As the CFO told Bloomberg News in an interview after announcing the Bharti deal, creditors -- secured and unsecured -- will be made whole by Tata Sons Ltd., the holding company.

Given the conglomerate's combined net debt of more than $21 billion, Agrawal's devotion to retaining the group's AAA rating in the local bond market is a good sign. Fixing steel and telecom will take care of two immediate headaches, but India's subsidy- and loss-ridden electricity sector remains a major bugbear for producers. Nine years ago, Tata Power Ltd. had a net-debt-to-Ebitda ratio of 4.2. That's now gone up to 7.5. 

Expect Tata Power, too, to shed assets, including perhaps a 51 percent stake it's reported to have offered in a plant to the government of Gujarat, the home state of Prime Minister Narendra Modi, for 1 rupee (about 1.5 cents).
This year, CFO Agrawal is the seller. But once the deleveraging is done, what will he buy? Investing in new growth businesses will be the next big challenge, especially if the group isn't to fall further behind rival Mukesh Ambani's Reliance Industries Ltd., which has pumped almost $4 billion in just one quarter into petrochemicals, refining and -- his new pet project -- telecom. 

That's where things could get tricky. State-owned Air India Ltd. is one potential acquisition candidate, though as I've argued, that debt-laden airline is too big for Tata's runway unless restructured by the government. Maybe Agrawal should take his time cleaning up the stables, lest he's pressured to restock it with duds again. 
(
An earlier version of this column was corrected in the fourth paragraph to show that the number of customers Bharti will gain is 40 million.
)
Before it's here, it's on the Bloomberg Terminal.
LEARN MORE