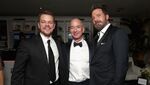 It's not just supermarkets that are in a tizz about Amazon.com Inc. The consumer goods giants are also having to change up to accommodate its increasing clout in groceries.
Nestle SA, the world's biggest food company, has told investors that it's opening a dedicated Seattle office just to serve Amazon. Colgate-Palmolive Co. is doing the same. Unilever and others have outposts there already. Consumer goods suppliers have long had teams on the ground in Bentonville, Arkansas, home of Wal-Mart Stores Inc. Now they're cozying up to Jeff Bezos.
That shows how seriously they're taking his foray into food and grocery. They know Amazon's going to be a big channel to market, and they want to work with it, not against it.

With growth hard to come by in many parts of the food and personal care market, the online behemoth offers a tantalizing glimpse of how to expand sales. So too do the all-conquering German discount chains, Aldi and Lidl.
But getting Amazon and Aldi to promote their goods isn't entirely straightforward for Nestle, Unilever and others. The budget supermarkets drive hard bargains and have a penchant for their own brands rather than well-known household products. By purchasing Whole Foods, Amazon has a powerful in-house name to rely on too.
Getting close to Amazon is a way for the consumer companies to try to get brands featured more prominently on its site. It's no wonder Nestle describes its Seattle office as its "Global Amazon Acceleration Team".
They also want to learn as much as they can about digital selling. They know how to get their products better displayed in a supermarket, but how do you do that when there are no actual shelves to show off your wares? That's even more of a challenge when things like voice ordering are thrown into the mix.

Procter & Gamble Co. got a look at this stuff by buying a small stake in Ocado Group Plc ahead of its 2010 initial public offering. It no longer owns shares in the web grocer, but it gained valuable insights on changing shopping habits. Amazon for its part is urging the consumer companies to re-imagine their products for online display and distribution, inviting some of the world's big brands to Seattle earlier this year.
While all the food-makers are watching Amazon closely, Nestle has particular reason to be alert. Some of its biggest sellers like water and pet food are popular online purchases because of their bulk. Others, such as Nespresso capsules and baby food, lend themselves to repeat internet orders. They're also some of its fastest growing brands and central to the plans of new chief executive Mark Schneider.

For Schneider and his peers, there's a clear aim for the Amazon love-bombing: bypassing the might of the big supermarket chains. But there's danger here too. Bezos himself might buy more grocers. Rumors of interest in France's Carrefour SA have resurfaced, while Reuters has reported an approach to another French chain Leclerc about a logistics partnership. 
If Amazon does corner more of the supermarket business, it would put him in a powerful position to squeeze his suppliers' margins. What starts out as a warm cuddle might end up a suffocating embrace.
With assistance from Sarah Halzack and Shira Ovide
Before it's here, it's on the Bloomberg Terminal.
LEARN MORE