Judd Apatow Addresses Weinstein Scandal at 'Power of Women' Event
By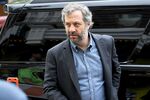 Judd Apatow answered the question on the lips of everyone in Hollywood Friday: What will become of Oscar-winning producer Harvey Weinstein's company?
"Shut it down -- we have enough 'Project Runway,'" said Apatow, the host of Variety's Power of Women luncheon, referring to the 13-year-old Weinstein Co. TV hit.

While reports of a potential sale or bankruptcy swirl, the fate of the company is actually less relevant than many in the industry might think. Though Harvey Weinstein and his brother Bob created some of the best films of the past quarter century, such as "The English Patient" and "Pulp Fiction," Hollywood is full of new creators, and many were in the audience Friday in Beverly Hills, California.
There to support the women in the industry were Warner Bros. Chairman Kevin Tsujihara, 21st Century Fox Inc. President Peter Rice, Lions Gate Entertainment Corp. Vice Chairman Michael Burns, MGM Holdings Inc. Chief Executive Officer Gary Barber, STX Entertainment founder Robert Simonds and media titan Jeffrey Katzenberg.
The attendance was surely bolstered by executives wanting to show support for women after last week's New York Times expose about Harvey Weinstein, which accused him of sexual harassment, and a subsequent article in the New Yorker that accused him of rape. Weinstein, who was fired from his company, has denied any allegations of non-consensual sex.
Marc Benioff, the CEO of Salesforce.com Inc., was honored for his support for pay equality. Actress Octavia Spencer and Patty Jenkins, the director of the Warner Bros. hit "Wonder Woman," were among those feted on stage. The audience included stars like Neil Young, Stevie Wonder, Kelly Clarkson, Gwyneth Paltrow, Gal Gadot and Blake Shelton.
But Apatow was the speaker who most directly addressed the scandal of the week, saying women will no longer be afraid to speak out against "creeps like Harvey Weinstein."
Before it's here, it's on the Bloomberg Terminal.
LEARN MORE