Drug Distributors Fall Ahead of '60 Minutes' Report on Opioid Crisis
By
Joint '60 Minutes,' Washington Post story to air Sunday

Report details setbacks in DEA efforts to address the epidemic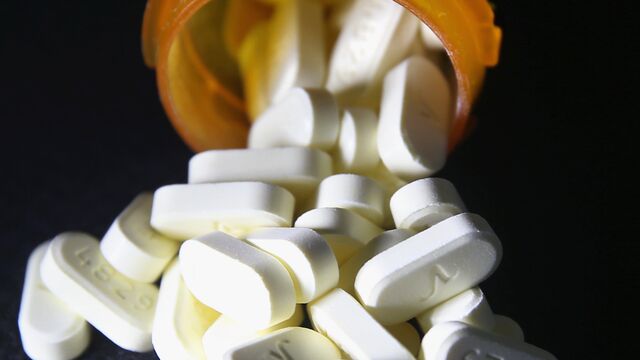 Shares of U.S. drug distributors fell Friday ahead of a "60 Minutes" television news report examining the role the industry played in the opioid epidemic that's sweeping the nation.
The six-month joint investigation with the Washington Post, scheduled to air on CBS on Sunday, details how the Drug Enforcement Administration's efforts to address the outbreak that has led to thousands of overdose deaths was undermined and derailed. A story will simultaneously appear in the newspaper.
While manufacturers of the pain medicines -- including Purdue Pharma, the maker of Oxycontin -- are facing a wave of state lawsuits as officials grapple with the fallout from abuse, the distributors have received less scrutiny.

Cardinal Health Inc. fell 2.3 percent to $64.84 at 11:48 a.m. in New York, after dropping as much as 3.7 percent to the lowest intraday price in almost a year. McKesson Corp. dipped 2 percent to $147.71 and AmerisourceBergen Corp. dropped 2.4 percent to $78.89.
Read More: Cardinal Health faces demand for accountability in opioid crisis
Pills and injections that are approved to treat pain are increasingly abused by those addicted to the medications.
The Healthcare Distribution Alliance, which represents drug distributors, said the industry recognizes the opioid epidemic as a national crisis that requires urgent action and supports efforts to reduce prescribing and increase proper disposal rates.
"For the past decade, our industry has continuously sought opportunities to communicate and coordinate more effectively with DEA to better understand our reporting responsibilities under the Controlled Substance Act, and to work together to mitigate the opioid epidemic," the HDA said in a statement. "Prior to 2016, these efforts were not reciprocated."
The group called for "greater clarity, dialogue and collaboration" between the DEA and the pharmaceutical supply chain industry.
Quotes from this Article
Before it's here, it's on the Bloomberg Terminal.
LEARN MORE