China Exports Remain Resilient as Rising Imports Signal Strength
Bloomberg News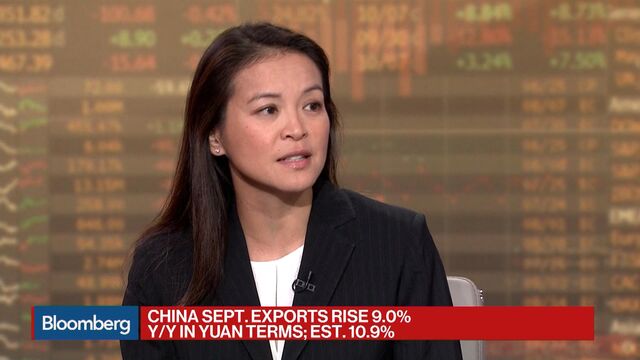 China's overseas shipments rose from a year earlier, narrowly missing estimates, the latest sign that Asian trade is holding up on robust external demand and a brighter global outlook.
Key Points
Exports increased 8.1 percent in September, the customs administration said Friday, less than the 10 percent projected in a Bloomberg survey
Imports rose 18.7 percent, exceeding estimates with the fastest growth since March, to result in a trade surplus of $28.5 billion
Iron ore imports surged above 100 million metric tons to a record
Big Picture
Demand for Chinese products has proven robust as growth in major trading partners holds up, though this trade report also gets a boost from a comparison with a low base last year. The official factory gauge rose to a five-year high in September, and the International Monetary Fund this week raised its global growth forecast as well as its estimate for China.
Trade also has been looking better elsewhere across Asia. Exports surged to records last month in both South Korea and Taiwan, while August data have shown strengthening in Thailand, Malaysia and Singapore. Still, the world's largest exporter faces uncertainty amid trade frictions with the U.S. and North Korean nuclear tensions.
Economist Takeaways
"The global economy is doing better," Donna Kwok, a senior China economist at UBS Group AG in Hong Kong, said in a Bloomberg Television interview. "G-3 demand, especially for Chinese exports, has strengthened since the beginning of this year. At the start of the year you only had the U.S. and now you also have Europe and Japan doing better, too."
"Not only has strong foreign demand continued to prop up manufacturing activity in China, but domestic demand remains resilient too," said Julian Evans-Pritchard, a China economist at Capital Economics Ltd. in Singapore. "A pick-up was always likely given that shifts in the timing of the Mid-Autumn Festival meant that there were more working days last month than in September 2016, therefore skewing the year-on-year comparison."
"The improvement in imports is impressive," said Tao Dong, vice chairman for Greater China at Credit Suisse Private Banking in Hong Kong. "This seems to be a reflection of a modest picking up in China's growth led by the commodities and machinery sectors, on top of a robust IT industry. The economy is improving."
Bloomberg Intelligence
"For China's leadership, preparing for the 19th Party Congress, the September data add to evidence of robust growth," Tom Orlik, chief Asia economist at Bloomberg Intelligence in Beijing, wrote in a report. "Looking further forward, slower exports into 2018 will remove a key prop to demand."
The Details
The global recovery supported export demand, while shipments to Europe, Japan and the U.S. recovered in September, a customs spokesman said at a briefing in Beijing
Trade volume rose to a record in the third quarter, but uncertainties in the global economy remain in the fourth quarter, spokesman says
Rising commodity prices pushed up import growth
Imports from North Korea fell 37.9 percent in September; exports dropped 6.7 percent
Trade surplus versus the U.S. rose to a record $28.1 billion
— With assistance by Miao Han, Kevin Hamlin, Yinan Zhao, and Ramsey Al-Rikabi
Before it's here, it's on the Bloomberg Terminal.
LEARN MORE