Bridgewater Wagers $1.1 Billion Against Italian Companies
By , , and
Bets on decline in shares include five banks, one insurer

Italian banks under pressure from stricter ECB bad-debt rules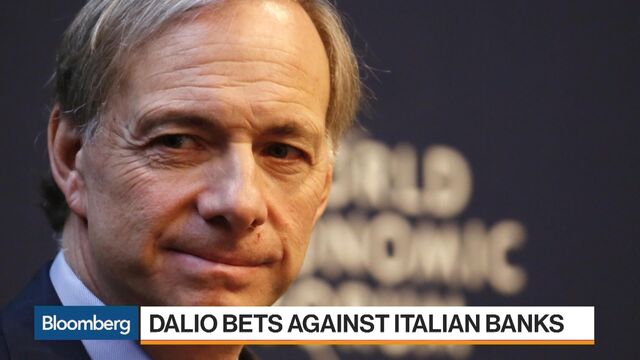 Ray Dalio's Bridgewater Associates, the world's largest hedge-fund firm, has mounted a $770 million wager against Italian financial stocks, its biggest disclosed bearish bet in Europe, data compiled by Bloomberg show.
The investments, aimed at exploiting any declines in the shares, are spread over five banks and one insurer and were disclosed in regulatory filings over the past week. The Westport, Connecticut-based investment firm, which oversees about $160 billion, is also shorting Milan-based Prysmian SpA, the world's largest cable maker, and Enel SpA, Italy's largest utility. A regulatory filing posted Friday showed Bridgewater opened a $311 million position against the utility. The hedge fund now has more than $1.1 billion combined riding against Italian companies. A spokesman for Bridgewater declined to comment.

Concerns that stricter rules from the European Central Bank will hit Italian lenders, which are still struggling under piles of soured debt, have encouraged investors to sell the shares of the nation's financial companies this month. This is rewarding hedge funds that shorted the stocks, which entails selling borrowed shares to buy them back at lower prices.
Italian banks, which had more than 300 billion euros ($356 billion) of gross non-performing loans at the end of last year, have been selling portfolios and using securitization vehicles since then to reduce their exposures. Including the transactions and agreements since the beginning of the year, NPLs are down by about a quarter and bad debt is almost 40 percent lower, according to analysis by Bloomberg Intelligence.
"It's a very substantial bet by Bridgewater," said Nicolas Roth, co-head of alternative assets at Geneva-based Reyl & Cie. "But it seems that the hedge fund is coming late to the party of shorting Italian banks as more NPL transactions are closing, cleaning slowly but surely bank's balance sheets."

The trend is a reversal from the third quarter, when Italian banks were among Europe's best performers as the rescue of Banca Monte dei Paschi di Siena SpA and the liquidation of two smaller regional lenders reduced the systemic risk of the nation's financial system. Italy's FTSE Italia All-Share Banks Index has dropped 5 percent since the ECB said Oct. 4 that it plans to hold lenders to tough new provisioning standards on bad loans starting next year.
Bridgewater's largest bearish bet against financials is Intesa Sanpaolo SpA, followed by UniCredit SpA and insurer Assicurazioni Generali SpA. Spokesmen for Generali, Intesa Sanpaolo and Banco BPM SpA, another shorted lender, declined to comment, while spokesmen for UniCredit, BPER Banca SpA and Unione di Banche Italiane SpA couldn't immediately be reached.
Intesa Sanpaolo CEO Carlo Messina said in an interview with CNBC Friday that Dalio was going to lose money with Bridgewater's bet against the company.
Marshall Wace and Oceanwood Capital Management are among other hedge funds shorting Italian lenders, according to data compiled by Bloomberg. Spokesmen for the firms declined to comment.
Before it's here, it's on the Bloomberg Terminal.
LEARN MORE