U.K. Pins Brexit Hopes on EU Leaders Reluctant to Help Out
By and
EU27 maintains unified stance that U.K. must agree to bill

Barnier said on Thursday that talks reached a deadlock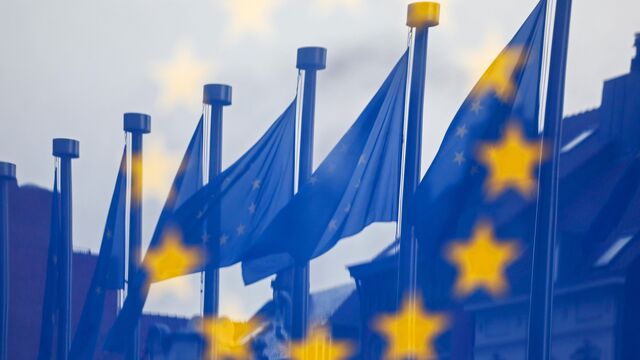 Brexit talks are deadlocked with the U.K. side hoping European leaders will throw Prime Minister Theresa May a bone at a summit next week. It's likely to be disappointed.
There is little appetite to make any concessions for the sake of an embattled May, even at the risk she is toppled and is succeeded by a hardliner. That is the assessment of a top European official, speaking on condition of anonymity about the thinking in a major capital.
There are plenty of good reasons to give May nothing next week. For starters, with a continent where economies are struggling and populism has left its mark, it would be hard to justify to a restless public opinion that the U.K. is being in any way let off the hook, according to the official. Money is in short supply and no government wants to be parted with it. Chancellor Angela Merkel is more worried about putting together a government.
And if there was to be some kind of quid pro quo on the financial settlement, it is too early in the process for the EU to cede ground, he said. When March 2019 rolls by and there is no deal, the country that will fall off the much-feared cliff is the U.K., so in a game of who-blinks-first the perception is that May has to be the one to capitulate first.
Transition Bid
From the British perspective, they heard European Union negotiator Michel Barnier's words about a disturbing "deadlock" and their interpretation was that it an elegant cry for help to broaden his mandate so he can start talking about the future alongside the divorce.
While that may sound like wishful thinking on the part of the Brits, a person familiar with the EU's discussions said Barnier would be open to expanding his mandate to include a transition deal for the period after the split, but member states disagree about when that should happen.
Barnier will lobby EU envoys on Friday for permission to negotiate that two-year bridging arrangement, Handlesblatt reported. Any transition would hinge on the U.K. agreeing to pay its exit bill -- the thorniest part of the talks so far. The Financial Times reported that leaders would tell Barnier at the summit next week to start "internal preparatory discussions" about the transition deal and future relationship.
Read more: Brexit Talks Impasse: A Guide to the Sticking Points
With May's leadership in doubt at home, the last person the Europeans want to have at the opposite end of the table is Boris Johnson, who as foreign secretary has repeatedly defied May on Brexit and who is reviled in Brussels for his fiercely anti-EU articles during his stint as a journalist, and his campaigning in the referendum last year.
So while there is a genuine concern about May not lasting the course, the baseline thinking was still that it was up to the government to inform the electorate that a bill has to be settled, according to the first official.
In Britain, voters have made clear what they think and May, weakened from an electoral debacle in June, is not in a position to anger them. The latest poll showed that 70 percent think 30 billion euros ($35 billion) is too much. The initial figures touted by the EU have been around 60 billion euros.
Read more: With May's Leadership in Doubt, Four Scenarios for Brexit
While the EU27 are broadly maintaining their unified front, diplomats in Brussels say there's a small group of countries with the closest trading ties to the U.K. that has long been keener to move talks on to trade. The Irish, Dutch and Danes are the most worried about Brexit, and therefore most eager to avoid a cliff edge, according to people familiar with the situation.
But another impediment to progress is that a major stakeholder, Merkel, has her mind elsewhere. She is more preoccupied with forming a new government, and straight after her return form Brussels on Friday, she will have her first full meeting with the other parties in preparation for coalition talks.
During her last meeting with May in Tallinn at the end of September, Merkel was skeptical about May's idea of a transition period. The chancellor hankers for specifics -- transition to where -- and there is some suspicion that May is bidding for more time.
In a speech at a union meeting in Hannover Thursday, Merkel said that her main Brexit goal is to "conduct the talks in such a way as to keep the harm for us in Germany to a minimum."
Her words also underline that in a sense, the continent was moving on: "Europe has stirred back to life after a sad decision by the Britons to leave the EU."
— With assistance by Arne Delfs, Joao Lima, Dara Doyle, Tim Ross, Andra Timu, Viktoria Dendrinou, Nikos Chrysoloras, and Jasmina Kuzmanovic
Before it's here, it's on the Bloomberg Terminal.
LEARN MORE